Add dependencies to your Gantt charts to efficiently manage your project timeline and the relationships between individual tasks. When the start or end date of a predecessor task changes, the dates of dependent tasks in your timeline will automatically update to reflect the change. You can also set up baselines to track the variance between your plan vs. actual dates. 
Follow these step-by-step instructions to create a Gantt chart.
Create and Work With a Gantt Chart
Display tasks in your sheets and reports as bars in a timeline with a Gantt chart. Get a picture of the duration, as well as the start and finish date of your project's tasks Gantt View.
You can view any sheet or report that contains at least two date columns in Gantt View. (For more information on Date columns, see the Column Types article in the Help Center.)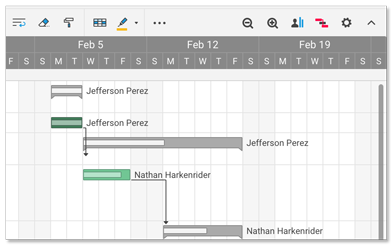 A Gantt chart also allows you to do the following:
---
Add a Gantt Chart 
You can add a Gantt chart to any existing sheet and optionally enable the dependencies features to create automation between project sheet columns.
To add a Gantt chart:
Ensure your sheet contains at least two date columns, one representing the Start date of tasks and one representing the End date.

These columns are required to add a Gantt chart to the sheet because the length of each task bar is based on the span of time between the given dates.
 
Select the Gantt View button in the toolbar to display your tasks in a timeline view based on their Start and Finish dates.


The chart will appear to the right of your columns and a divider splits the screen between grid columns and the Gantt chart. You can drag this divider right or left to widen the display of either section.
 
Click the gear icon to open Project Settings and make sure your Gantt chart is using the correct columns for start and end date.
Adjust the Timeline Display
Across the top of the Gantt chart, an adjustable Primary and Secondary Timeline allows you to display your tasks using different units of time.
Click Zoom In or Zoom Out to toggle the different timeline displays.
Adjust the Project Settings
Click the gear icon to access the Project Settings for the sheet.

In the Project Settings form, you can: 
Enable Dependencies for automatic task duration calculation
Adjust the Primary and Secondary Timeline Displays
Configure non-working days and holidays
Find out more about modifying project settings in the Modify Project Settings article.

If you've configured a % Complete column in Project Settings, any time a value is entered in this column its also visually indicated in the Gantt bar for the task:


Display Hierarchy
In the sheet's Primary Column, you can indent rows to create a hierarchical relationship to organize rows into sections that you can expand or collapse. Child rows display as individual task bars in the Gantt chart based on their start and end dates.
If dependencies are enabled on the sheet, parent rows reflect a summary of their child rows. The parent row values are calculated automatically in the duration, start and end date, and % complete columns and can't be modified. If dependencies aren't enabled, you can change the parent row information as needed.
NOTE: Row hierarchy isn't displayed in a report.
Apply Color to the Gantt Bars
Change the color of a Gantt bar color in a sheet by right-clicking on the bar and selecting Color Settings.
NOTE: Task bar colors may change automatically if your sheet has Conditional Formatting rules set up. Check out our Help Center article on Conditional Formatting for more information.
Follow these step-by-step instructions to enable dependencies on your Gantt chart.
Review the specific column types associated with Gantt charts with dependencies enabled.
Follow these step-by-step instructions to set up your working days on a project sheet.
Follow these instructions to set up baselines on your project sheet.