The key themes of the Smartsheet design system are consistency, scalability, and speed. Our main goal is to make it easier for you to find the work items you need, with less friction. 
Find everything you need with the navigation bar: Quickly navigate to your work, access help, respond to notifications, configure your personal settings, and more — all from the consolidated and always visible navigation bar.
Home surfaces things most important to you: Smartsheet Home dynamically surfaces your most relevant and time-sensitive work in a single location so you can get more done and make an impact faster.
Navigate your work from Home
Stay up to date on recent requests and recommended Smartsheet items on your personalized homepage.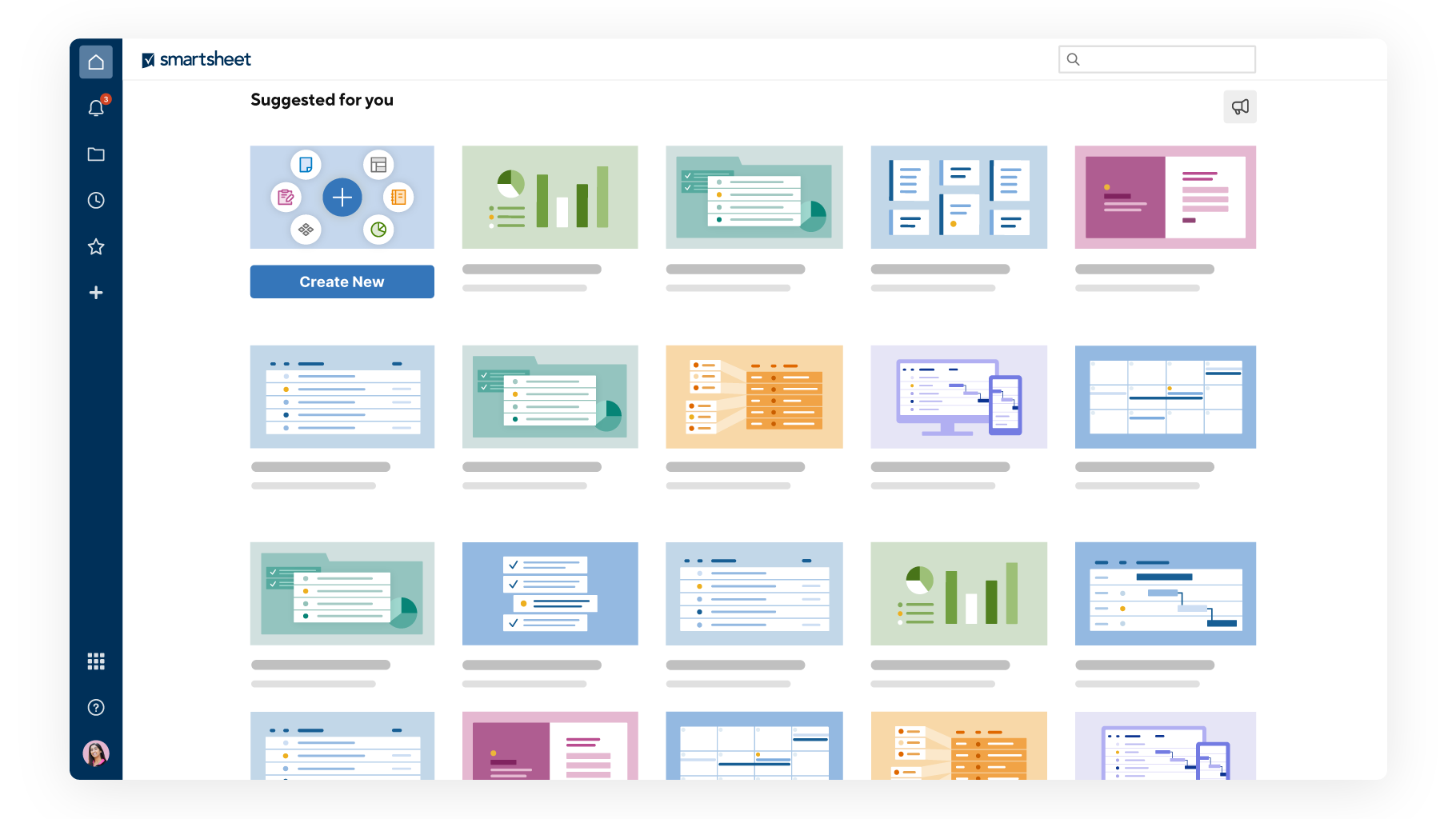 From Home, you can:
Access suggested items.
Create new Smartsheet items via Solution Center.
Submit feedback about Home via the Megaphone icon.
Suggestions for You
Home recommends sheets, reports, and dashboards based on your Smartsheet activity.
You can take the following actions on suggested items: 
Open: Open the item in the current tab.
Open in New Tab: Open the item in a new tab.
Don't Suggest This: Remove the suggested item from the list.
Access and Organize Your Work from the Left Navigation Bar
The left Navigation Bar (Nav Bar) provides quick access to that important sheet, report, or dashboard when you need it.
Hover over an icon on the Nav Bar to see what the icon means; click the icon to go there.
Use a Keyboard Shortcut to Open an Item in a New Browser Tab (Google Chrome)
Locate the item that you want to open in the left panel.
Hold down Ctrl+Enter (Windows) OR Command (Mac), then click the item.
Organize and Access Items in Your Directory
Browse contains every Smartsheet item that you own or are shared to. Here, you can organize your Smartsheet items into folders and workspaces, and access your work apps. 
More on workspaces can be found in the Manage Items in a Workspace help article.
Quickly Locate and Manage Recently Accessed Items
Select Recent to see your most recently accessed Smartsheet items (the list can contain up to 20 items).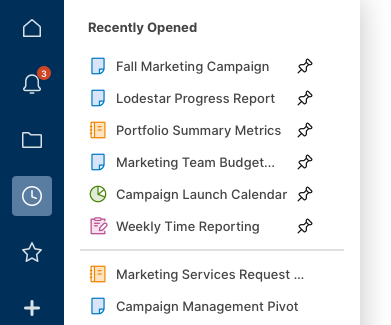 Pin Important Items for Easy Access Later
From Recently Opened, hover over an item and click the Pin icon to keep it at the top of the panel. You can pin up to 20 items here. 
NOTE: Recently Opened can contain a maximum of 20 items. Pinning 20 times in Recently Opened will prevent other items from appearing in the panel.
Hover over a pinned item and click the Unpin icon next to items that are already pinned to unpin them.
The order in which pinned items appear is based on when you've pinned them—newly pinned items appear closer to the top.
NOTE: Unpinning an item does not remove it from Recents, delete it, or remove your access to it. You can always access items you own or are shared to from Browse.
Manage Recent Items by Removing Them
To remove an item from Recents, right-click the item in the list and select Remove from Recents.
NOTE: Removing an item from Recently Opened does not delete it or remove your access to it. You can always access items you own or are shared to from Browse.
Add Items That You Access Often to Favorites
Open a Smartsheet item and click the Add to Favorites icon on the right of its name.
If you'd like to remove an item from your Favorites panel, open the item and click the icon again.
NOTE: Removing an item from Favorites does not delete it or remove your access to it. You can always access items you own or are shared to from Browse.
Create New Smartsheet Items
Click the Solution Center (plus) icon for options to create new sheets, reports, dashboards, and more You can create blank items to build from scratch, import existing third-party files into Smartsheet as new sheets, or start from a template.
More information is available in the following articles: