Capabilities
Who can use this capability
Everyone has access to the Launcher. What you can access from the Launcher depends on your plan and permissions level for each app. 
Access premium apps from the Launcher
The Launcher gives you easy access to premium apps and other resources, right from a menu in Smartsheet. You'll find the Launcher in the lower left corner of the Smartsheet window.
When you select an app from the Launcher, it will always open a new browser tab.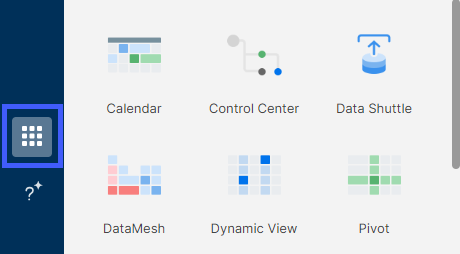 If you don't see the apps you expect in the Launcher, visit Review, manage, and log in to apps and integrations manually. 
---
What you can access from the Launcher
The following table lists apps and integrations that you'll be able to open from the Launcher. 
App or integration
Description
Calendar App
Build flexible, customizable, and shareable calendars using your Smartsheet data.
Control Center*
Manage the entire lifecycle of your program and all of the projects and processes that are part of it.
DataMesh
Provides lookup functionality between sheets and facilitates data consistency.
Data Shuttle

You can import data automatically from enterprise software systems like CRM, ERP, databases, etc., directly into Smartsheet. Smartsheet supports CSV, Excel, and Google Sheets files for upload. You can also use Data Shuttle to offload data as an attachment to a Smartsheet Sheet or to an external cloud source.

Smartsheet.gov users can upload data only.

Dynamic View
Share sections of a sheet or report without having to share the source item.
Pivot App
Summarize and dynamically refresh data that you've stored in a sheet or report.
For information about how to obtain Smartsheet premium apps, contact Smartsheet Sales.