Capabilities
Who can use this capability
System Admins can log into the Admin Center and access User Management
Admin Center: Add, edit, or deactivate users
User Management features in the Admin Center allow you to add, edit and deactivate, users individually or in bulk. You can also generate various user reports, transfer ownership of items, and revoke access to your account's shared Smartsheet items from external users.
To access User Management, log in to Admin Center then select User Management from the menu in the upper left corner.
Assign more than one System Admin to your account just in case the main System Admin isn't available. Learn more about user types in Account-Level User Types for Business and Enterprise Plans.   
Add or edit individual users
Select the Add User button at the top left of the User Management page.
Fill out the user details in the Add User panelon the left.
Select Invite to send that user an invitation. The user will need to accept the invitation to become active member of your organization.
To find users with a specific status (unlicensed, active, etc.), select Show All Users at the top right and then make your selection. 
Errors when adding users
A user can belong to multiple accounts but must use a unique email for each account. If you invite a user to your account with an email that's already in use for different account, you will receive the error message: This person belongs to another account. 
To correct this, the user can provide a different email address; you can reinvite them with the new address. Or, the user can ask the Sys Admin for their other account to remove them from that plan. Learn more about managing email addresses associated with your Smartsheet account.
Editing user properties
To edit individual users, select a name from your User Management list. Make your changes in the left Edit User panel. 
| Use this page | To do this |
| --- | --- |
| General Info | Edit the user's name and roles, premium application roles, and view their primary email address. |
| Profile | Edit the user's title, department, company, phone numbers, and job category. |
| Groups | See the groups the user is part of, and view the group details or remove them from the group. |
| Alternate Emails* | Add alternate email addresses to the user's account, or make an alternate email address their primary  |
* Users can delete alternate email addresses from User Management.
* If you add an alternate email address, a confirmation email will be sent to that address. The user must confirm the change before the alternate email is successfully added.
Select the More icon

at the top right to access additional actions for the user.
Use this option

To do this

Transfer Owned Items...

Transfer all of the user's items to another licensed user in your account. For more information,
see Change Ownership of a Sheet, Report, or Dashboard.

View Group Membership...

See the names of all contact groups the user is part of. You can also remove them from specific groups or view the group details.

Download Sheet Access Report...

Download a CSV of all the sheets that the user is shared to within your Smartsheet account.

Send Password Reset Email

If you have Email + Password authentication enabled, send the user a link to reset their password.

Remove from Groups

Remove the user from all groups in your account.

Remove Sharing

Remove the user's sharing access to all sheets, reports, dashboards, and workspaces in your account that they don't own.

Deactivate user

Revoke a user's access to Smartsheet and enable their license to be reassigned. Content owned by the user is retained within its existing ownership structure and sysadmins can transfer ownership of assets as needed. See Remove, delete, or deactivate users.
If you add an alternate email address, a confirmation email will go to that address. The user must confirm the change before the alternate email is successfully added.
Smartsheet doesn't recognize distribution lists as valid email addresses for new accounts or as destinations for automated communications in a workflow.
User roles and permissions
You can edit user roles and permissions for Premium Applications and Connectors.
To enable or revoke access to premium applications and connectors on your account, toggle the sliders for each user.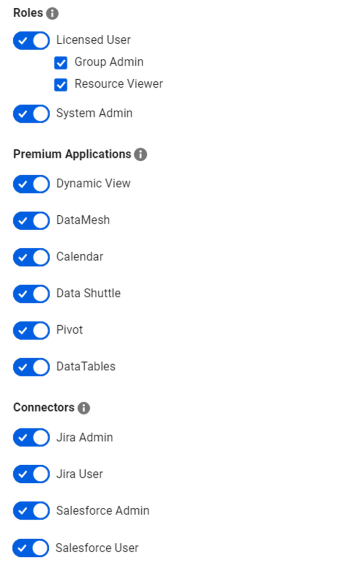 To make bulk changes to roles and permissions, select the More Actions dropdown on the User Management page.
This Help Article Appears in the Following Learning Tracks