Capabilities
Who can use this capability
You must be a Smartsheet sys admin to log in to Admin Center and manage users. 
Remove, delete, or deactivate users
Smartsheet Admin Center provides multiple options to manage a user's access to your account.
Deactivate user
Smartsheet recommends deactivation as the preferred means of removing a user from Smartsheet.
Deactivated users won't be able to sign in to your company Smartsheet account, but items they created remain available. Upon deactivation, you will get their license back, and you can continue to access their assets and profile to reassign ownership of content and groups as needed.
You can't deactivate users with emails from the following domains because it completely revokes their access to Smartsheet. Instead, remove them from your plan.
outlook.com
gmail.com
hotmail.com
live.com
yahoo.com
aol.com
verizon.net
rocketmail.com
comcast.net
icloud.com
charter.net
web.de
mail.com
email.com
usa.com
duck.com
mail.ru
Reactivate user
If a deactivated user rejoins your organization, you can reactivate their account. Reactivation assigns a license and restores access to shared items or assets the user still owns. 
Delete user
Delete user permanently removes the user from your org. Deleted users can no longer access your account, and their licenses will be released.
When you select this option, Admin Center will prompt you to manually transfer all assets and groups the user owns (see below).
Remove sharing
When you revoke a user's access to all items, they can still sign in to Smartsheet and create items. They can access any new content shared with them. Use this option to withdraw an external collaborator's access to items in your account.
To manage users:
Go to the Admin Center.  
Select User Management.
Hover over the row of the user account you want to manage.
On the right side of the row, select More.
Select one of the following:

Remove sharing
Deactivate user
Reactivate user
Delete user
To transfer ownership of assets and groups:
Go to the Admin Center.  
Select User Management.
Hover over the row of the user account you want to manage.
On the right side of the row, select More.
You can select the following:

Select Transfer Owned Items
Select Transfer Owned Groups
(Optional) Select Remove Sharing
(Optional) Select Remove from Groups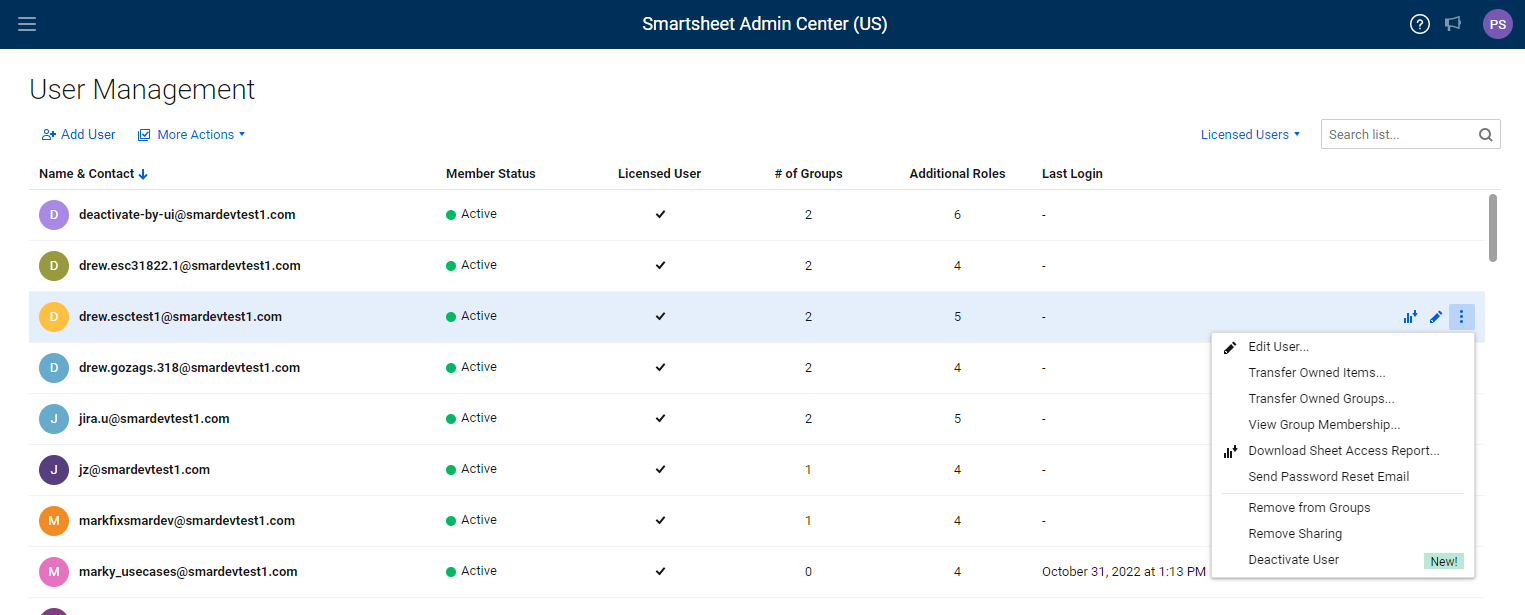 Other things to know
You can't remove yourself from an account even if you're a SysAdmin. Another SysAdmin must remove you from the account. 
You can't revoke access to Smartsheet or deactivate users through third-party integration.
To update assets without an admin or editor, use bulk ownership transfer 
For licensed users that need to retain ownership of their assets while moving to a new plan, open a support ticket. You can also use the Smartsheet API to configure user movement without asset loss.
Use the filter dropdown in the top right corner to find users by status or type. Can't find a user? Try changing the filter setting.