To create a WorkApp:
From Smartsheet, select the plus icon from the left rail to choose Create > WorkApps.
NOTE: You can also select Browse (folder icon) > WorkApps or navigate directly to https://workapps.smartsheet.com and log in with your Smartsheet credentials.
Select + Create app from the top-right corner of the home page.
Choose a pre-existing template or start from scratch.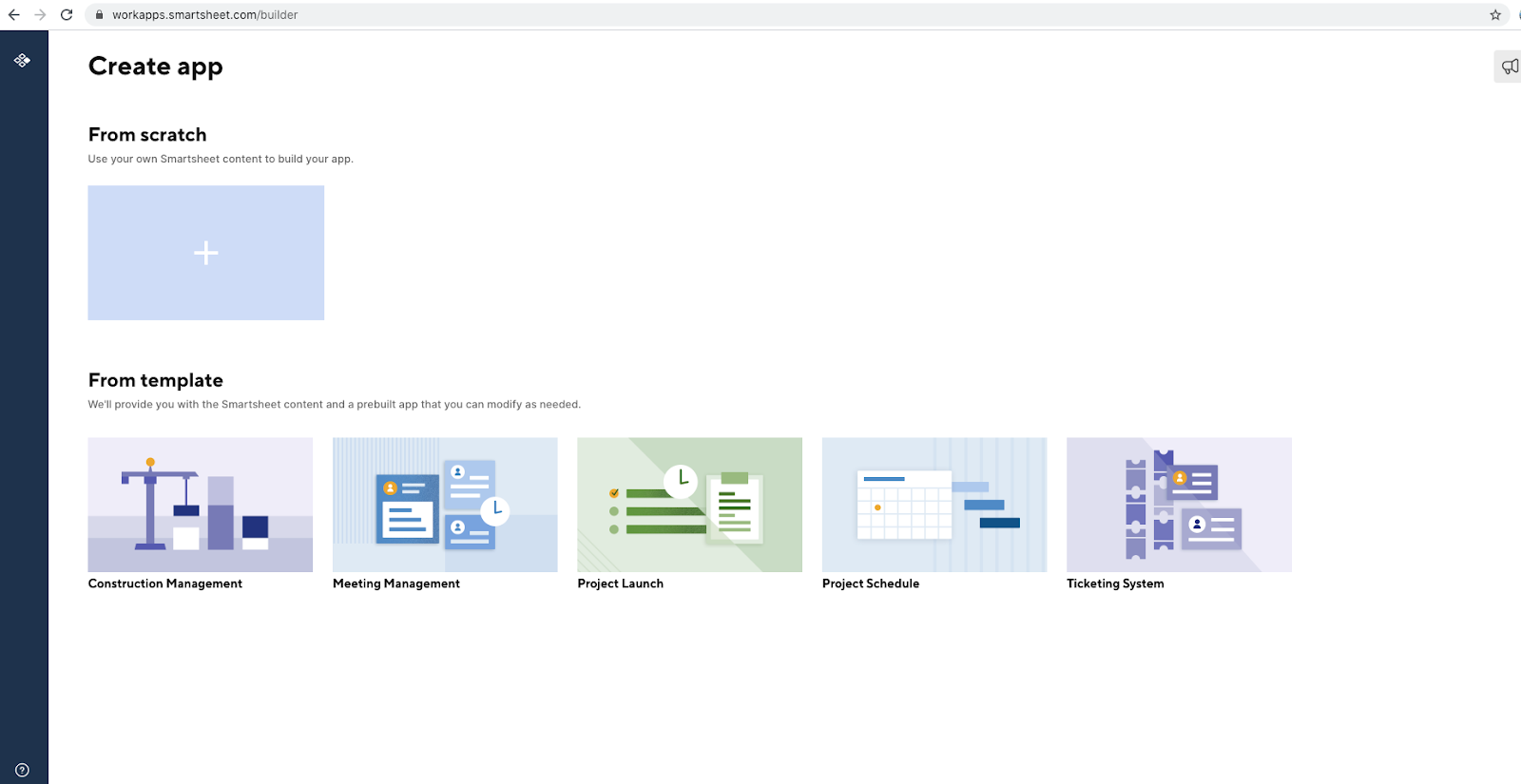 You can change the name of the app by clicking on Untitled App.
You'll be taken to the WorkApps Builder where you can begin adding pages and tailoring the application to your stakeholders needs.
When you go through the App, it will take you through a guided experience.
To revisit the Guided Experience, you can click on ? and select Tour WorkApps.
Edit your existing apps
To edit an existing app, navigate to https://workapps.smartsheet.com and select the application you'd like to edit. You can also select the menu icon to delete the app, or view the live app if you've already published it.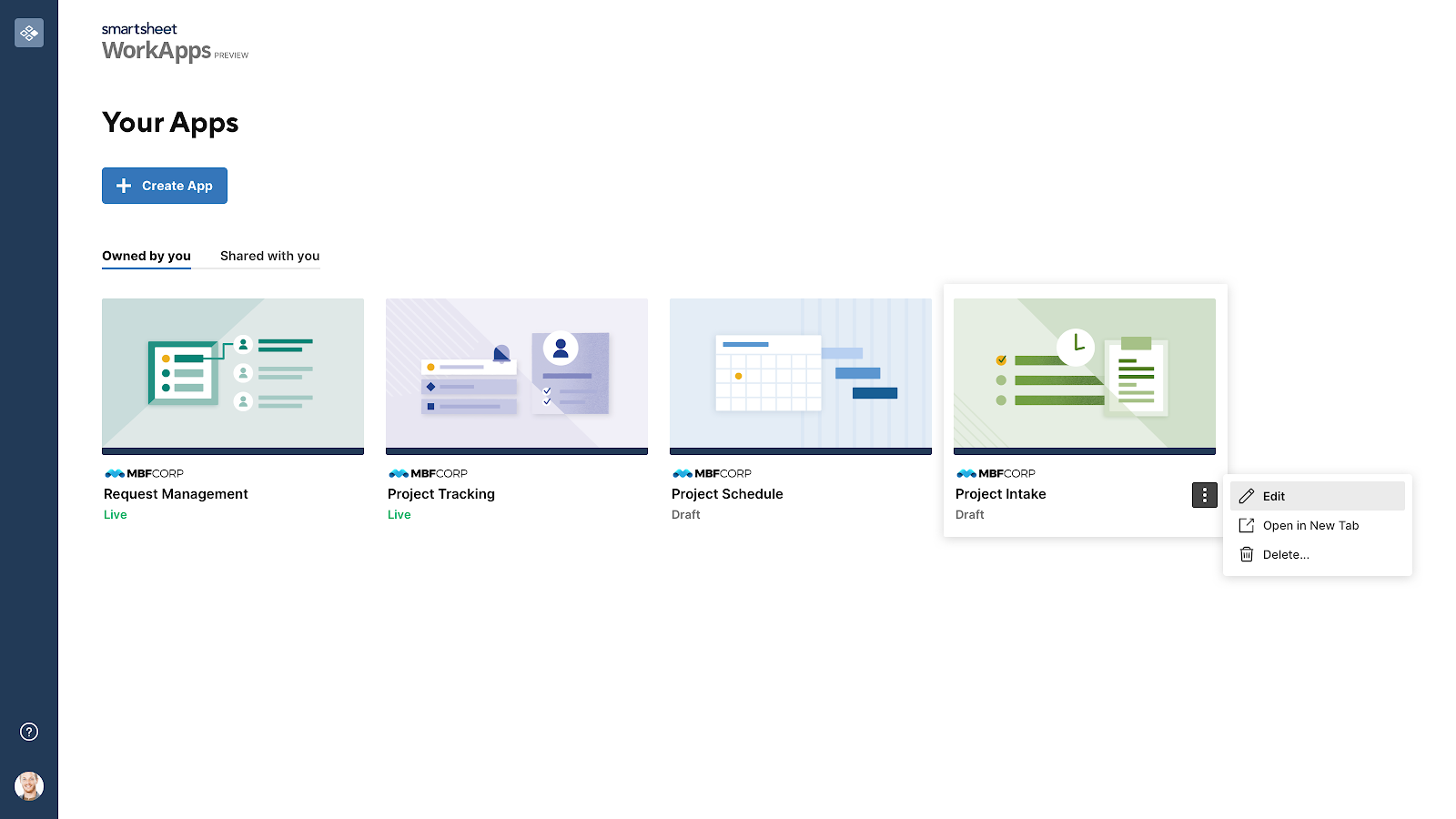 Any changes you make in the builder are automatically saved if you exit the WorkApp. It is then set to Draft mode. To exit the builder and select a different app to edit, select the WorkApps Home icon
Add and Edit Pages
Select the Pages icon
from the left rail to open the Pages section of the app builder. This is where you can add, delete, and edit pages that are included in your application.
From the Add Pages dropdown menu on the left of the screen, you can add Smartsheet Content (such as sheets, reports, and dashboards), Smartsheet Forms, and Web Content.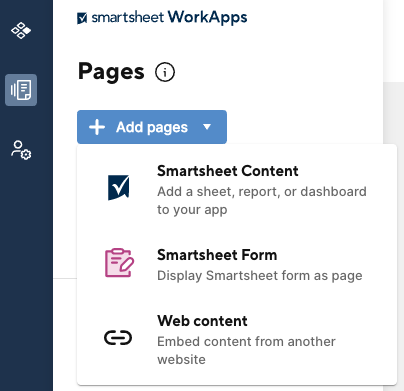 Added pages will appear on the left side under Current Pages. Hover over any page name and select the menu icon to rename or remove it. All pages will be added in Viewer permission by default.
NOTES:
Your accessible forms are not searchable and must be added by copying the URL of your form into the WorkApp.
You can embed the same list of external web content as Dashboards in WorkApps. Please refer to  Embed Content from Outside Sources article to learn more about what can be added to the WorkApp.
Clicking on Getting Started while using a template helps you with the usage instructions regarding the template.
Page Settings
With any page selected under Current Pages, select the Page Settings icon
at the top-right to open the Page Settings panel. 
Most pages will only show you the page source, however there are additional settings available if your page is a sheet. For sheets, you can control the default view of the sheet when opened in the WorkApp on desktop (Grid View or Card View) and in the mobile Android and iOS apps (Mobile View or Grid View), and you can apply a saved default filter to help collaborators see key information first. You can also change your Card View settings such as Level, and View By.