In certain situations (for example, needing to join another Smartsheet account) you may need to leave your current account. In situations where you need to join another Smartsheet account, you'll need to coordinate with the System Admin on your current account so that they can remove you.  
If you're a non-licensed user, you'll be immediately removed from the organization. If you're a licensed user your Sys Admin will receive your request to be removed; the Sys Admin must complete the process for you. 
Before You Begin
If you are a System Admin, you can't remove yourself from an account.
If you're a System Admin and would like to be removed from an account, reach out to another System Admin (or promote someone else to System Admin) and they'll be able to remove you with the steps provided in the Manage Users in an Enterprise or Business Plan article.
 
It may be beneficial to speak with the current System Admin on your plan to ensure you retain access to the sheets you own, items, and shared access. 
---
Request to be Removed from an Account
Log in to your current account and select your Profile icon (lower left) > Account Admin.



The Account Administration form appears.

 
Select Remove Me from Account to create a removal request email message for the System Admin labeled as the main contact on your plan. 



TIP: You can provide context to your request by typing in the field below the Subject. This will appear in the body of the removal email that is sent to your System Admin.


 
Click the Send button.
The System Admin will receive an email message—complete with your email address and anything that you typed in the Subject field—with your request to be removed from the account.
System Admin: When You Receive a Removal Request
You may receive an email message similar to the example below with a request for you to remove someone from the Smartsheet account that you manage.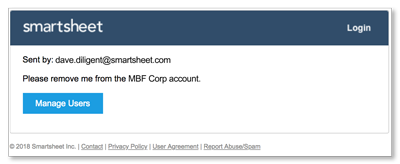 From this message, you can click Manage Users to quickly remove the person who is making the request from the account. Learn more about this process in the managing Smartsheet users help article.