Dashboards are a communication tool that provide real-time visibility into critical data and centralize all the information that your team needs in a single place. 
Dashboards are made up of easy-to-configure widgets, the building blocks for dashboards, that display the live data from your sheets and reports. Dashboards can be shared with anyone, including teammates, executives, and even external customers, and are easily viewed on the desktop or the Smartsheet mobile app. 
Sharing a live dashboard with your different stakeholders ensures you're able to get the right information to the right people, at the right time, to make informed decisions. They can also serve as a team portal to centralize all of the information and resources about your program, process, or team in one place. 
 
Follow the step-by-step instructions to create a dashboard.
Create and Make Changes to a Smartsheet Dashboard
Get started creating and making changes to your dashboard.
Create a new dashboard
On the left Navigation Bar, click the Solution Center (plus) icon.
In the left panel, click Create, and select the Dashboard/Portal tile.
Type a name for your dashboard and then click OK. A new, blank dashboard appears.
Click the pencil icon in the upper-right hand corner to edit your dashboard or select edit dashboard from the edit menu to begin adding information to your dashboard. Visit the Dashboard Widgets article for more information about widget types and how to configure them.
After you add widgets, you can make changes to its size and location:

To move a widget to a new location, you can click and drag it, or you can cut and paste it in a new location.
To resize the widget, click and drag the lower-right corner of the widget.

Click Save in the upper-right corner of the dashboard to save your changes.
Make changes to a dashboard
In the top left, and click Dashboard Settings or Add Widget. For more information, see Add and Edit Widgets on your Dashboard. 
Adjust the dashboard background color
When you have a dashboard open in Smartsheet, you can set the background color of the dashboard to gray or white.
To change the background color of a dashboard:
Click the Edit menu in the upper-left corner of the dashboard.
Click Dashboard Settings. Alternatively, you can right click anywhere on the grid background and select the Dashboard Settings option, or the gear icon in the right Feature Bar when in edit mode.

Select your background color and then click Save to confirm your changes.
Apply custom colors
When selecting colors for fonts, charts, titles, and more, you can choose from standard presets or add a custom color using a HEX code, RGB code, or from a color gradient. To create your own custom color, select the + icon under Custom Colors within the color selector.
Up to 20 custom colors will be saved on a dashboard, so if you add a custom color to widget A, you'll be able to quickly select the same custom color on widget B if these widgets are on the same dashboard.
Custom colors are unique to the dashboard you are editing, and will not be visible on other dashboards.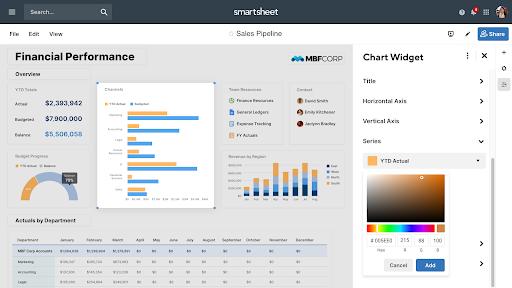 When viewing a dashboard in the mobile app, custom colors will be replaced by the closest available default color.
Configure How Often a Dashboard Automatically Refreshes
By default, a dashboard refreshes automatically once every 10 minutes.
To change the frequency, or to disable the automatic refresh: 
In the upper left, click View.
Hover over Auto-Refresh.
Select your frequency, or select Off to disable auto-refresh. 
Keep the following in mind with automatic refresh:
You can only change how a dashboard automatically refreshes when you're viewing it. For example, if you disable the automatic refresh setting, it will remain enabled for other collaborators that are viewing the dashboard.
A published dashboard will automatically refresh once every 10 minutes. This behavior cannot be customized or disabled.
Web Content Widgets will not automatically refresh on dashboards.