Smartsheet allows you to attach and manage files directly in your sheet so you can access all of your work in one place. Files can be attached from your desktop and the most popular cloud storage providers.
Follow the step-by-step instructions to add attachments to your sheet.
Attach files to a sheet or report
Duplicate file names
In the desktop app, when you upload a file with the same name as an already saved row or sheet, you'll have to select one of these options:
Attach as a new version of the original file
Attach as a separate file with a duplicate name
Alternatively, consider changing the name before you upload.
On the mobile app, you can upload identically named files will be uploaded directly without the option to save as a new version. 
Attach files with the mobile app
Explore the Smartsheet App for iOS or the Smartsheet App for Android if you're looking for information about using your mobile device to attach multiple files and edit images.
Attach files to a sheet
In a sheet, you can attach files to a sheet, row, or comment. In a report, you can attach files to a row. 
To attach files at the sheet level 
Select the Attachments icon. 
Select the Sheet tab. 
Drag any files to the Attachments pane, or select the Attach Files to Sheet button.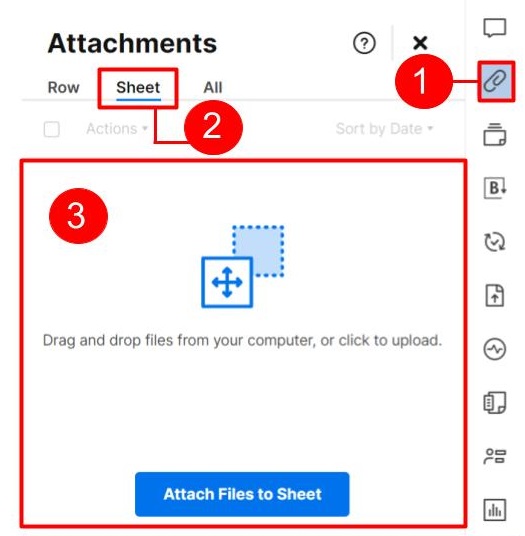 To attach files at the row level in a sheet or report
Rows that already contain attachments will display the Attachments icon to the left of the row number.
You can only attach files to one row at a time.
You can't associate any already attached file with a different row or area of the sheet.
Select the Attachments icon on the right sidebar. 
Select the row where you want attach your file. 
In the Attachments pane, select Attach Files to Row.
If you're uploading a locally saved file, drag the file to the row where you want to attach it.
Attach files as you comment
Go to the Conversations pane. 
In the lower-right area of the comment box, select Attachments . 
Choose the location of the file. 
Type your comment and select Save.
Attach files with Brandfolder
You can attach files directly from your Brandfolder account to your sheet. When you attach an asset from Brandfolder, you're linking the row or sheet to the asset in Brandfolder, and you can make changes to the asset.
You can change file details, replace and update the asset, and more. The asset you access through Smartsheet will always be the latest version.
When you select Attach from Brandfolder, the Brandfolder panel opens.
Use filters, labels, pinned searches, or browse through Brandfolder to find your asset. 
Choose the files you want to upload from Brandfolder.
To attach multiple assets, use the checkboxes. 
Select Attach to row or Attach to sheet.
Any Brandfolder assets you attach to the sheet or their rows are visible to people shared to the sheet. Shared users don't need Brandfolder access to view these attachments.
---
Supported file types, sizes, and other requirements
The vast majority of file types are supported for uploading, including (but not limited to):
File type
 
Extension example
Most image formats
.jpg, .png, .gif
Portable Document Format
.pdf
Microsoft Office Suite
.docx, .pptx, .xlsx
Supported browsers and upload quantities
You can upload 100 files at a time.
There isn't a limit to the total number of attachments on a row or sheet, but you only have as much storage space as it's included in the sheet owner's subscription.
You have to upload files larger than 30 MB if your browser supports HTML 5. 

Learn more about system requirements and supported browser types and versions.
File types that are not supported
For security reasons, there are restrictions on the file types you can upload or download, such as an executable (.exe) file type.
Maximum file sizes
File size maximums depend on your plan, user type, and the method used to upload a file.
User or upload type
 
Maximum file size
Licensed user
250 MB (30 MB for Pro plan)
Free or unlicensed user
30 MB
Trial user
250 MB
Anyone uploading files from a Smartsheet form
30 MB
Smartsheet Mobile app (iOS and Android)
30 MB