Approve Time and/or Expenses
This Help Article Appears in the Following Learning Tracks
In addition to My Time & Expenses view, Admins and Approvers have Approver View. Approvers see this view by default. Approver View shows current and previous timesheets for everyone whose time/or expenses they can approve.
Set who approves time and/or expenses in the person's profile settings.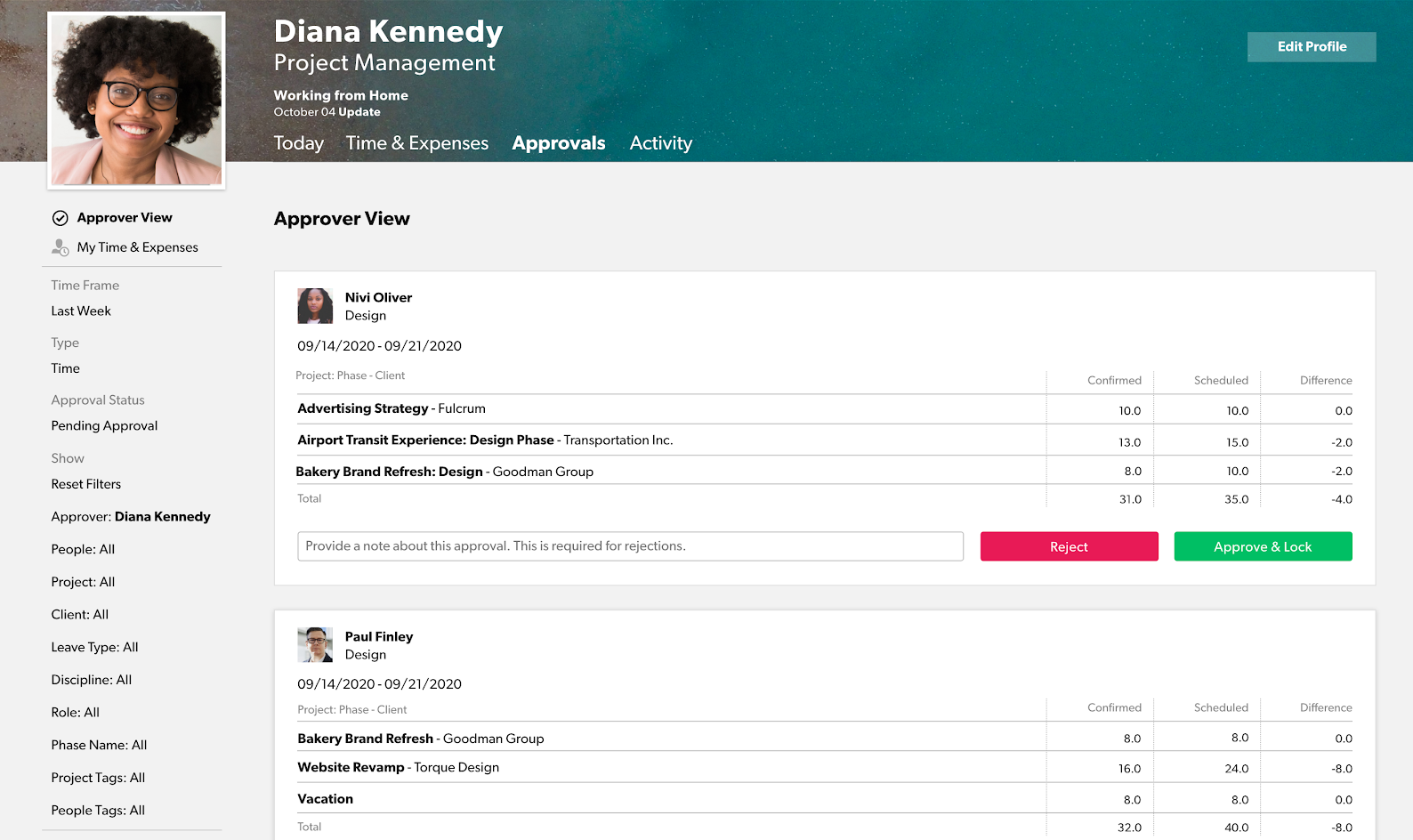 By default, Approver View shows all pending time entries for the prior week. Use filters to adjust the time frame or show only specific groups of time entries, such as time for an individual project or client, to see rejected time entries, or change the date range.
In Approver View, submitted time entries are grouped into weekly timesheets. Each timesheet shows hours tracked for each project per person, per week. 
For each project, the total confirmed and scheduled hours are shown along with a computed difference (positive for more than scheduled, negative for less than scheduled).
View Time & Expense Details
Click a project row in the timesheet to see the day-by-day breakdown of hours, including related categories and notes. For more detail, click a name in the timesheet to navigate to that person's profile page where you can view individual time entries. 
Similarly when viewing expenses, click on a project row to see the detailed breakdown, including category and notes.
Approving Time and/or Expenses
To approve time, click Approve & Lock at the bottom of the timesheet. 
This approves all the time and/or expense entries shown for the week and locks the associated entries from further editing. If approval notifications are enabled, the person will be notified that their entries have been approved.
Approving Time For Specific Projects
You can approve time for specific projects rather than the entire timesheet or expense sheet. To do so, use the filters to display a specific project or set of projects.
For example, if you wish to approve time for all work for a specific client, select that client in the filter menu. Timesheets will be filtered to only show projects for that client. 
Click Approve & Lock to approve the hours or expenses for the project entries shown. Entries for other projects are unaffected.
Rejecting Time
Enter a note (required) and then, at the bottom of the timesheet or report, click Reject.  This resets the entries to unsubmitted and notifies the person to resubmit their time or expenses.
If notifications are enabled, the submitter will receive an email notifying them their time or expense was rejected, along with the associated note.
Rejecting time or expense submissions reverts the entry into an unsubmitted state. The submitter needs to adjust their time or expense entry and re-submit it for approval.
Using Saved My Views
Use My Views for quick access to commonly used views in approvals.
To create a saved view, select the desired time frame, type, approval status, and filters and then click Save Current View under My Views. 
You can create multiple saved views for different scenarios.
For example, if you always approve time for a specific client, select that client as a filter and create a saved view.