Custom Fields allow you to add your own unique business logic, increasing the depth and usability of people's profiles within 10,000ft. Using Custom Fields, you can add your own properties to Projects and People. This extra level of detail helps surface helpful insights for scheduling and planning, and makes reporting more powerful.
For People, Custom Fields allows you to add properties like skills, certifications, managers, organization structure, etc. to peoples' profiles
For Projects, use Custom Fields to add business-specific criteria to your projects and specify properties such as project manager, project priority, likelihood of closing, business unit, project IDs, locations, etc.
When integrating 10,000ft with other business tools or systems, add Custom Fields to map the same naming logic or unique identifiers used in other tools.
Projects and People can have multiple Custom Fields, which can be filtered on the Schedule, Project Portfolio Page, or in Reports.
Creating Custom Fields
Administrators can add a Custom Field by navigating to Account Settings > Project Custom Fields or People Custom Fields.
Select Add, and fill out the following information:
Field Name: This is the display name for the Custom Field and its filters.

Field Description: Provide a description that outlines how this Customer Field should be used (optional).

Field Type: Select Text Field, Drop Down Menu, or Multiple Choice Drop Down Menu. The Drop Down Menu and Multiple Choice Drop Down Menu options allow you to specify the Field Options that Administrators and Project Managers can select.

Default Value: Set the value that new projects or people will have pre-populated in this field. You can have this value pushed to existing projects or people by selecting Apply default value to existing projects/people.

How is this field used?: Determine whether you want this value:

Visible on the Project or Personal Page

If it should be a filter option throughout the account

If it should be editable only by administrators (People Custom Fields only)
Select Save to create your Custom Field. The new field will now appear on all Projects or People, with the default values if applicable. Both Administrators and Project Managers can edit custom fields in Project Settings or Profile Settings, as applicable.

NOTE: If you update a Custom Field in Account Settings, it will be updated for all Projects and People that it is assigned to. If you remove a custom field from Account Settings, it will not be removed from the Projects or People that it was assigned to. The Project or Person will retain that value within their settings, and as long as at least one Project or Person has that value attached to their settings, the option will still be seen and selectable in the filtering options on the Schedule and in Reports.
Filtering
Filtering a Custom Field in Reports allows you to show specific items in a data set. For example, just show high priority projects, or projects that belong to a certain project manager. Selecting multiple filters will aggregate data for all of the filters selected. You will only see filters that are actually available in the data you have grouped.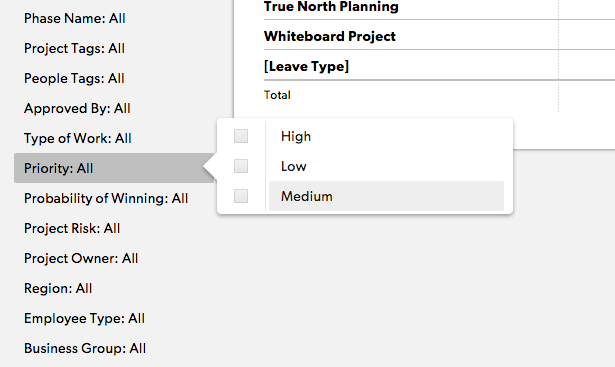 Clicking on the name, for example "Medium," is a quick way to show just that menu option. It will deselect everything else and just select that option. Clicking on the checkboxes allows you to add multiple options.