The best way to log in to Smartsheet is to visit: https://app.smartsheet.com
To log out of Smartsheet: Click Account in the upper-left corner of the Smartsheet window, and then click Sign Out.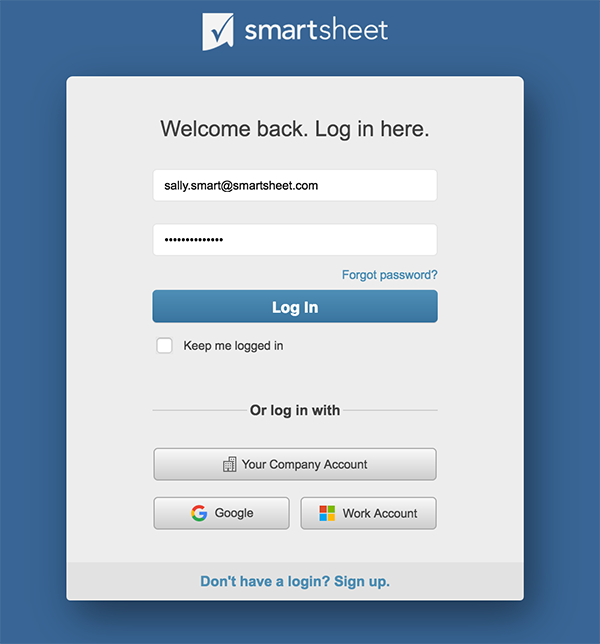 ---
Understanding Login Options
SysAdmins on Enterprise accounts have the ability to enable or disable any of these options at any time via the Smartsheet Account Administration form. For more information, check out the Security Controls (Enterprise Only) article.
The options the SysAdmin selects will impact all users on the Enterprise account.
Log In with Google (Gmail or Google Apps) or Office 365 for Business
If you use a Gmail, Google Apps, or an Office 365 for business email address in Smartsheet, click the Google
 or Work Account (Office 365 for business 
​ ) button.
If you aren't already logged into Google or Office 365, you'll be prompted to provide your account information, and you will also be asked to grant Smartsheet permission to use your credentials if this is your first time using this login method.
You'll then be logged into Smartsheet automatically with the email address on your Google or Office 365 for business account.
NOTE: Smartsheet doesn't receive or store your Google/Office 365 password.
Log in with your Email Address and Smartsheet Password 
If you don't use a Google or Office 365 email address in Smartsheet, or if you don't want to use the login method mentioned above, enter your email address into the field and then click Continue.
The page will update to include a field where the account password can be entered. Enter the password and then click Log In. If you don't recall the password, click on the Reset Password link.
The next time you visit the login screen, you'll be able to enter your email address and password in the same step.
 
TIP: Checking the Keep me logged in box will log you into Smartsheet automatically each time you visit the login screen. The feature will be turned off if you sign out of your account by clicking Account > Sign Out.
Log in with Your Company Account
Enterprise SysAdmins can enable a single sign-on experience with Smartsheet from their local network using SAML 2.
If your organization has this feature enabled, you can access Smartsheet using the Your Company Account button.

NOTE: Depending on how the internal single sign-on page is configured, you may be required to enter your credentials or authentication may happen automatically. After authentication, you'll be directed back to Smartsheet and will be granted access.