Capabilities
Who can use this capability
Licensed users with an Owner or Admin permission can use this capability.
Sort your report results with the report builder
In the report builder, you can further arrange your data with the Sort feature. How your data will be sorted depends on its data type. 
Read on to learn more about sorting data in the report builder.
To sort data in reports
In the menu bar, select Sort. 
Identify how you want to sort your data. 
Optional: To add another sorting rule, select Sort by another column.


You can have only three sorting rules.

 
Select OK.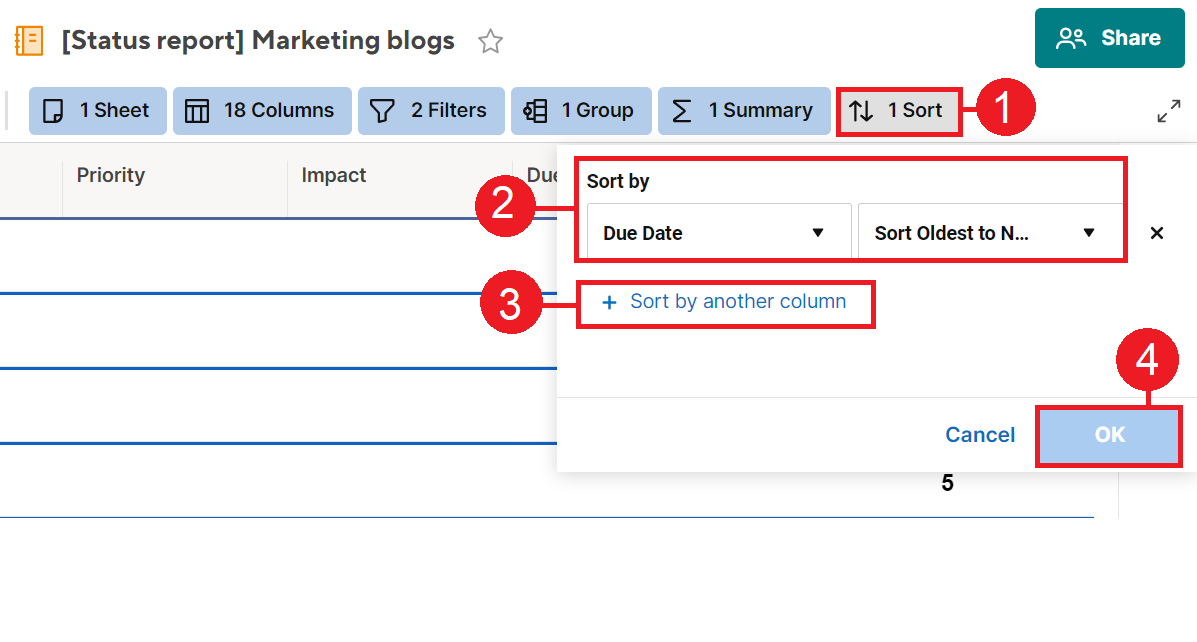 Sort vs. Group
Fields you used in the Group tab can't be used in the Sort tab. Instead, you can specify the order in which you want your groups to appear.
For example, you grouped your data according to its Draft State. When you go to the Sort tab you won't see Draft State as an option anymore. However, the other columns in your report will be available as sorting options. For example, you have a Due Date column. You can use that column to sort your data groups according to their deadlines. 
Learn more about grouping data in the report builder.
Sorting dropdown lists
Expect these app behaviors when you sort dropdown columns:
Dropdown-column sorting behaves differently in reports and sheets. When you sort a dropdown column in a report, items will be sorted in ascending or descending order. In sheets, when you sort dropdown columns, items will be sorted based on how the dropdown values are arranged in the column properties of that source sheet.
A report can pull from multiple sheets. However, it consolidates only columns with the same name and column type. If the dropdown list columns have different values across sheets (for example: a,b,c,d in one sheet and 1,2,3,4 in another), the report is unable to determine which sort to honor in the consolidated column. So it sorts values as if they are in a Text/Number column.