Group Management in the Admin Center enables a Group Admin to organize contacts into groups so anyone using a Business or Enterprise Smartsheet plan can quickly share and send information to all of the people in the group.
You must be designated as a Group Admin on a Business or Enterprise plan to create and manage groups. Once a group is set up, anyone on the plan can share and send information to that group.
---
Create a Group
In Admin Center, select the menu icon at the top-left and choose Group Management.
Select the Create Group button at the top-right to display the Create Group panel.
 Name your group (for example, Sales Team) and give it a description. Optionally add a description and members.
To add group members in bulk, you can copy and paste up to 1,000 email addresses from an Excel or .csv file into the Add Members field.
Select Create. The group will be added to the list, and you will automatically be a member.
For more information about working with Smartsheet contacts, see Create New Contacts.
---
Manage an Existing Group
A group can be managed by its owner or by any System Admin on the account. Select the Group Name to open the Edit Group panel. 
Group admins will not be able to remove users from groups they do not own. To remove users you must be the group owner or system administrator.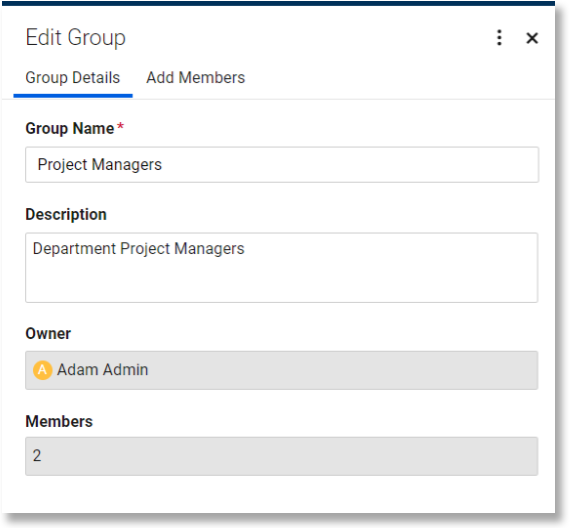 By default, you'll go to the Group Details tab where you can change the Group Name and Description and see the Owner and number of Members. Select the Add Members tab to add members to the group.
You can also select the menu icon to the right of any group to do the following:
| Use this option | To do this |
| --- | --- |
| Edit Group Details... | Open the Edit Group panel |
| View Group... | See a list of all the group members along with their current user types, such as Licenced Viewer or System Admin. |
| Add Members… | Add new people to the group. Be aware that this will also share these people to everything the group is shared to. |
| Transfer Group Ownership | Transfer ownership of the group to another Group Admin or System Admin in the account |
| System Admins Only - Generate Group Sheet Access Report | Creates a report, sending you an email with the report as an attachment of all sheets in your account that are shared to the selected group. The file also includes the sheet owner's name, group's permission level to the sheet and the date of the sheet's last modification. |
| Delete Group | Deletes the group from the list. This will also remove the group from any sheets it currently shared to and any recurring emails that are being sent to its members. This action can't be undone so proceed with caution. |
For more information about managing groups, see Manage and Use Smartsheet Contact Groups.