Admin Center: Add, edit, or delete users
This Help Article Appears in the Following Learning Tracks
Capabilities
Who can use this capability
System Admins can log into the Admin Center and access User Management
User Management features in the Admin Center allow you to add, remove, and edit users individually or in bulk. You can also generate various user reports, transfer ownership of items, and revoke access to your account's shared Smartsheet items from external users.
With User Management, you can define the roles and user types of people in your account, and you'll want to assign more than one System Admin to your account just in case the main System Admin isn't available. For more information about user types, see Account-Level User Types for Business and Enterprise Plans.   
To access the User Management, log in to the Admin Center with your Smartsheet credentials at https://admin.smartsheet.com/, then select User Management from the menu on the upper left corner.
Add or Edit Individual Users
To add a user to your account, select the Add User button at the top left of the User Management page, then fill out the user details in the Add User panel that opens on the left. Once you've filled out the details, select Invite to send that user an invitation.The user will need to accept the invitation before they are officially an active member of your organization.
The user needs to accept the invitation before they are officially an active member of your organization.
To edit individual users, select their name from your User Management list. On the left-side Edit User panel, you can make various changes. See the table below:
| Use this page | To do this |
| --- | --- |
| General Info | Edit the user's name and roles, premium application roles, and view their primary email address. |
| Profile | Edit the user's title, department, company, phone numbers, and job category. |
| Groups | See the groups that the user is part of, and view the group details or remove them from the group. |
| Alternate Emails* | Add alternate email addresses to the user's account, or make an alternate email address their primary email address. |
* If you add an alternate email address, a confirmation email will be sent to that address. The user will need to confirm the change before the alternate email is successfully added.
Smartsheet doesn't recognize distribution lists as valid email addresses for the purpose of creating a new account or sending automated communications in a workflow.
You can also select the menu icon at the top-right to access additional actions for the user.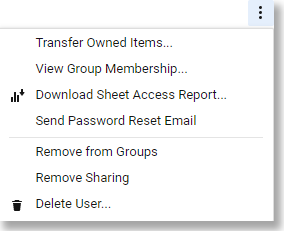 Use this option

To do this

Transfer Owned Items...

Transfer all of the user's items to another licensed user in your account. For more information,
see Change Ownership of a Sheet, Report, or Dashboard.

View Group Membership...

See the names of all contact groups the user is part of. You can also remove them from specific groups or view the group details.

Download Sheet Access Report...

Download a CSV of all the sheets that the user is shared to within your Smartsheet account.

Send Password Reset Email

If you have Email + Password authentication enabled, send the user a link to reset their password.

Remove from Groups

Remove the user from all groups in your account.

Remove Sharing

Remove the user's sharing access to all sheets, reports, dashboards, and workspaces in your account that they don't own.

Delete User...

Delete the user from your account. See Deleting Users below for more information.
---
Delete Users
To delete a user from your account follow these steps:
1. Hover over the user in your user list to open the three-dot menu icon at the far-right, then select Delete User.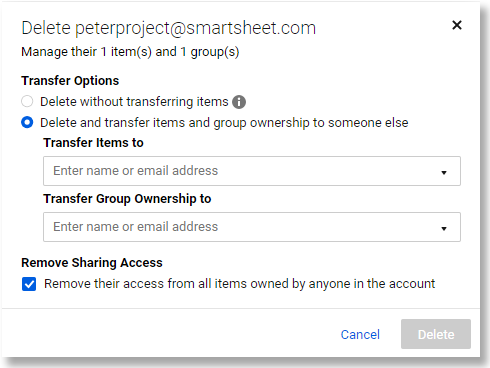 2. If the user owns sheets, reports, or dashboards, you'll be able to choose to transfer these items to another licensed user. If the user owns groups, you must transfer their groups to another Group Admin or delete the groups.
If the items are not transferred, they become locked in a read-only state. if the user doesn't obtain a license within 30 days, the items will be deleted, and any links, reports, or dashboards related to these items will be unable to connect. Also, if the admin owns items in a workspace and these are transferred to another user, such as an editor or viewer who is not an admin or owner of said workspace, the items will be removed from the workspace and re-shared at the item level.
3. Confirm if the user's sharing access should be removed from all items in your account.
If sharing access is not removed, they may still be able to log in to Smartsheet and access all items they were previously shared to.
4. Check your settings and then select Delete.
If the user owns workflows and configurations for any of the Smartsheet premium apps or connectors, these will not be transferred and may break upon deletion. Please reach out to Smartsheet Support for assistance before deleting these users.