Analytics and Reports collect data from budgets, people, and time, and allow you to group and filter that data into reports that help answer questions like:
Was my project profitable?

Where and why did we go over budget?

How would we run this project differently next time?
Use Analytics & Reports to make more informed decisions for your company.
You can create and save frequently-used reports to quickly see what's going on in your account. Access your saved reports from your Personal Page or the Analytics Page.
 Analytics Page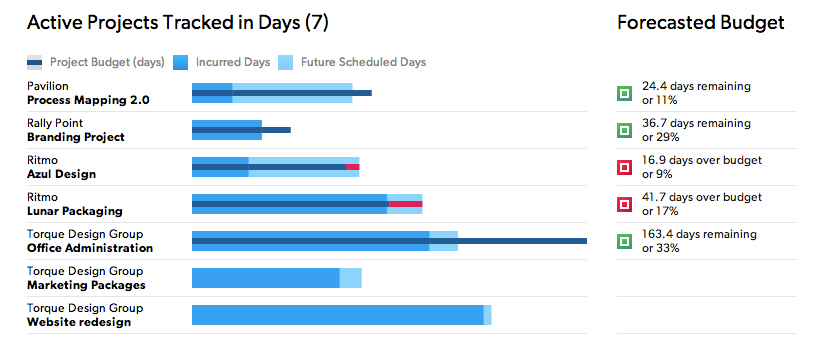 The Analytics page is a dashboard for your company. In the center, the Analytics Page displays an overview of active projects with color-coded project bars and forecasted budgets to the right. On the left, this page displays who is available in the next two weeks.
The Analytics page also lists saved reports, which are accessible to people with the appropriate access level.
Reports
To create a new report, click the New Report button on the Analytics page.
A report has four components:
Report View: Select which data you want to view in the report. Choose between Time + Fees, Budgets, Utilization or Expenses.

Time Frame: Choose from preset time frames or select a custom date range.

Group By: How you want to group your data. For example, you can group data by team member, by project, or client. You can always set a secondary grouping as well. For example, you can first group the data by project and then group by team member. Now you see who is working on which projects and how much they are allocated.

Show: Choose what data to display. By default, 10,000ft shows all data for all projects. You can choose to only include information from one project or one team member.
Depending on your account's incurred period, report data can include past days and today, or past days only (making "today" be considered "future scheduled" time).
The reports section works like a PivotTable in Excel. Group and filter the data as needed using pivots.
Report Types
There are four types of reports:
Select a report type under the "View" section of the left column.
Reports allow you to drill into details about specific people, departments, and even granular day-to-day details on time or fees on a project.
Read more to find out how you can get the data you need in reports, and how you can export that data to create your own reports outside our tool: