Track time in Resource Management
In Resource Management, you can track time in three different ways. Each option offers different levels of flexibility and detail. Choose what makes the most sense for your organization, depending on your company's culture and reporting needs.
1/2 days: Fast, high-level time entry
Hours and minutes: Precise time tracking with efficiency
Itemized hours and minutes: Additional details and reporting options
To change your Time Tracking setting, go to Settings > Account Settings and review the Time Tracking section. 
½ days: Fast, high-level time entry
½ days time entry is great for teams with little variation in their daily activities. This works well when people are working on one or two projects at a time. Time is entered in 4-hour increments. The Confirm Suggestions button makes entering time an easy, one-click process.

½ days won't provide the accuracy you get with the other time tracking settings, but if you're simply looking to keep time entry as efficient as possible, ½ days works well.
Hours and minutes: Precise tracking that maintains efficiency
Hours and Minutes time tracking allows people to enter the exact time spent on each project or phase. Your people can confirm the suggested hours for the days they work according to the plan, or enter their own hours. The Hours and Minutes setting includes a timer in the Day View, for more precise time entries.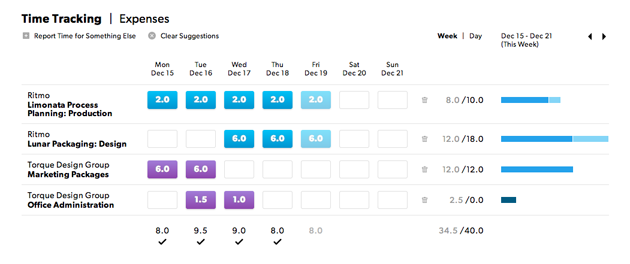 This setting gives your team the ability to track and report on actual time spent per project. 
Itemized hours and minutes: Additional details and reporting options
Itemized time entry provides the most detailed time entry. People can categorize their time and add notes. Project managers can budget by category within a project, providing an additional layer of reporting in analytics.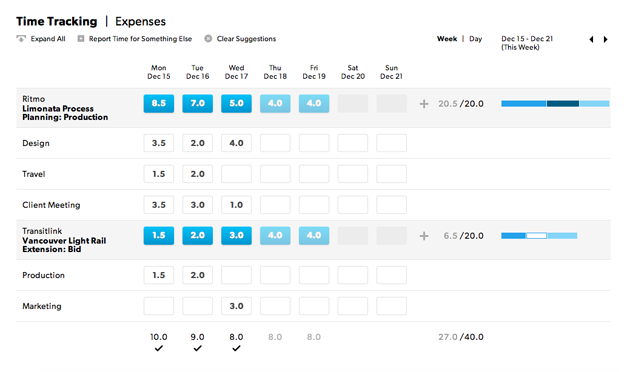 Use Itemized Time Tracking if you want to break down time-based on specific activities (e.g. meetings, travel, etc.). Customize activities in Settings > Time + Fee Categories. Itemized hours and minutes also has a timer in the Day View, eliminating guesswork when it comes to entering time.
When you set up itemized time tracking, you can select Require a category entry when entering time. Use this setting for billing clients or other projects that require detailed time entry information. 
Requiring a category with each time entry deactivates the option to bulk confirm suggested hours for a given day.
Other time tracking settings
Further customization allows your organization to determine:
Minimum and maximum allowable hours to track per day
Work hours in a day
Workdays per week
Day your work week starts
When people enter fewer hours than the minimum for a day, a warning reminds them the entry is incomplete. When people enter more hours than the maximum for a day, a notification lets them know they've exceeded the maximum.
Hours entered are still considered confirmed hours, even if they don't follow the guidelines established in your Account Settings.
Approval workflow
Enable the approvals workflow (including bulk approvals) in Account Settings.
Tracking project progress
You can see a project's progress in days (time) or currency amounts (fees). This information appears on the project page, beneath the Status area.
Availability and allocation
Choose from either percentage (%) or hours per day. This setting determines how availability is displayed on the Schedule. It's also the default method for how people get allocated when assigned to projects.
In this example, Availability and Allocation are shown as hours per day.