Capabilities
Who can use this capability
Resourcing Administrators, Portfolio Editors, People Schedulers, Portfolio Reporters, Portfolio Viewers, and Project Editors can see budget reports.
Sample Resource Management project budget status report
Reports allow you to gain insights into forecasting needs, project budgets, and an understanding of who is working on what and when.
Here are some examples of reports you can create in your account:
Project budget status by phase
View: Time & Fees: Amounts
Time Frame: Custom Date Range
First Group By: Project
Then Group By: Phase Name
Show: Project: Project Name / Client: Project Client
Project-specific reports can be filtered via status using the project status filter.
Client budget status
View: Budget: Amounts
Time Frame: This Year
First Group By: Client
Then Group By: Project
Show: Client: Fulcrum
Project expense budget
View: Expenses
Time Frame: Custom Date Range
First Group By: Project
Then Group By: Team Member
Show: Project: Project Name / Client: Project Client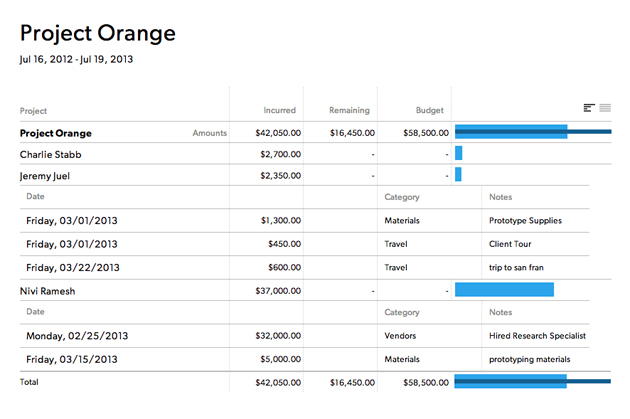 Project status
View: Budget: Amounts
Time Frame: Custom Date Range
First Group By: Project
Then Group By: Team Member
Show: Project: Project Name / Client: Project Client