Column types help you get better control over what data is allowed in columns—use specific types to ensure more consistent data entry. In Smartsheet, you can choose from the following column types:
Note that even when a column property is set, it's possible to type text freely into a cell (one exception is read-only system columns).
 Jump to video demonstration: Column Types
 
---
Editing Column Types
As the sheet owner or licensed collaborator with Admin access to the sheet, you can change an existing column type using the Column Properties form. To do this, click the dropdown arrow
 under the column header and select Edit Column Properties. (You can also specify the column type when inserting a new column.)


NOTES:
The primary column type can't be changed.
If a column is enabled in the project settings of a sheet, its type will be displayed as Date/Time, Duration, or Predecessors and the column type won't be editable.
---
Column Type Reference
Text/Number
This column type can include text, numeric values, or any combination of the two. Text/number is the best choice for comment columns that might have long entries or number-focused columns, such as the projected expense for a sheet tracking a budget.
You can apply formatting to a text/number column to display values in currency or percentage format by clicking the column header and then clicking the Currency Format or Percentage Format button in the left toolbar.
NOTE: If the first character of a number is zero followed by another digit or by a letter, Smartsheet will prepend the value with an apostrophe and store it as text. It does this so that the leading zero will be retained and displayed with the number. If you want the number to be stored as a number—so that you can perform calculations with it, for example—you'll need to double-click the cell and remove the apostrophe and any leading zeros.
Contact List
This is the best choice for columns such as Assigned To, Owner, Approved By, and so on. This column type enables you to assign rows to collaborators shared to a sheet or to contacts from your Smartsheet Contact List. You can also use the column to send Reminders to shared collaborators and generate reports that show a list of tasks assigned to a specific team member.
When you use this column type, you have the option to specify preferred contact values in the Values box (you can specify up to 50 contacts here). Acceptable values for this list are a contact name and email address, a name only, or an email address only.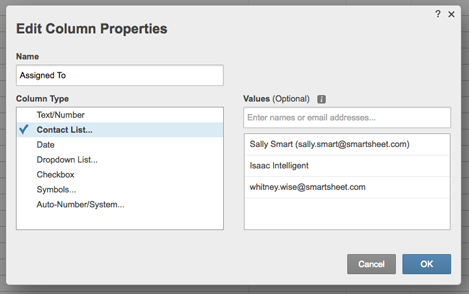 When you click the dropdown arrow
 in a cell, you'll see a list of preferred contacts if you specified those when you set up the column values on the sheet. If you haven't specified preferred values, you'll see collaborators shared on the sheet or other contacts and email addresses that have been assigned to other rows in the sheet. You can add to the list by manually typing a new name or email address into a cell. As you type, the list will expand to display a relevant list of matching contacts from your Smartsheet Contacts List, as well as from the User Management screen for Team/Enterprise users.
TIP: If you start typing a name or address and aren't seeing the list auto-resolve, this means you don't have any contacts matching what you've typed. Add the contact to your list to make sure that you can run reports and send reminders to them. Click the dropdown arrow
 in the cell then select Add New to add the contact to your list and assign it to the row.
To remove names or email addresses from the auto-resolve dropdown list, remove them from the other cells in the column and from the Edit Column Properties form. People who are shared to the sheet will always appear as suggestions when you type in a Contact List column.
Date
The cells in this column will display a calendar icon that collaborators can click to choose a specific date. You can also manually type in dates or use keyboard shortcuts to populate the cells. Date columns must exist in the sheet to enable dependencies or to display items in the Calendar view.
The dates will appear in the format set up in the Personal Settings of your Smartsheet account.
Dropdown List
This column displays a list of values from which you can choose.


When you select this column type, you'll have the option to type the values that you want to appear in the list. Separate each list item onto a separate line by pressing [Enter] or [Return] on your keyboard.
To remove an item from the Dropdown List, select it and then press [Backspace] or [Delete] on your keyboard.
Checkbox
The column presents a checkbox that can be checked or unchecked. A checkbox will appear in the cell only if a value has been entered into another column in that row.
Symbols
A Symbols column will display a visual image. Use a Symbols column to describe the status of a row.

After selecting this column type, you'll be able to select from a variety of symbol categories in the right panel, including: Flag, Priority, Decision, Status, Direction, and Measurement.
You cannot add your own (custom) symbols to the column.

NOTE: You can't add a star or flag to a row unless at least one other cell in the row contains data.
Available Symbols
Flag
Priority
High, Low   
High, Medium, Low   
Decision
Yes, Hold, No   
Yes, Hold, No   
Stop, Rewind, Play, Fast Forward, Pause   
Status
Red, Yellow, Green   
Red, Yellow, Green, Blue   
Red, Yellow, Green, Gray   
Sunny, Partly Sunny, Cloudy, Rainy, Stormy   
Empty, Quarter, Half, Three Quarter, Full   
Empty, Quarter, Half, Three Quarter, Full   
Down, Sideways, Up   
Down, Angle Down, Angle Up, Up   
Down, Angle Down, Sideways, Angle Up, Up 
Direction
Up, Unchanged, Down   
Down, Right, Up, Left  
Measure
Easy, Intermediate, Advanced, Expert Only   
Empty, Quarter, Half, Three Quarter, Full   
Empty, One, Two, Three, Four, Five   
Empty, One, Two, Three, Four, Five   
Empty, Quarter, Half, Three Quarter, Full   
Empty, One, Two, Three, Four, Five   
Empty, One, Two, Three, Four, Five   
No Pain, Mild, Moderate, Severe, Very Severe, Extreme

 Check out our Support Tips in the Smartsheet Blog: How to Automate RYG Balls, Using Column Symbols
Auto-Number/System
This type of column will automatically generate values for every row in the sheet that contains data. Auto-numbering can be useful when you want to assign row IDs, part numbers, invoice numbers, or customer numbers without manually typing them in. System columns can show you who created each row, who last modified each row, the time each row was created, and the last time each row was modified. 
When you set them up, System column cells are initially empty: the values will be generated as soon as you click Save to save the sheet.
For more information, see Auto-Numbering Rows and System Columns.
System Column Types
The following table lists the different system column types and what they can be used for.
| | |
| --- | --- |
| Type | What It Does |
| Auto-Number | Assigns an automatically incremented alpha-numeric value to each row in the sheet.  |
| Modified (Date) | Lists the date and timestamp of the last data change made to the row. Changes made to the discussions, attachments, or formatting (font color, background color, etc) are not logged in the column. |
| Modified By | Lists the email address of the collaborator who last made a data change to the row. Changes made to the discussions, attachments, or formatting are not logged in the column. |
| Created (Date) | Lists the date and timestamp of the row's creation. |
| Created By | Lists the email address of the collaborator who created the row. |
NOTES:
Each system column can only be used once per sheet.
The values in these columns are display-only and can't be manually changed; however, you can apply formatting to the column to alter the appearance.
Changing an existing column type to a Modified Date/By or Created Date/By system column will overwrite existing cell data. Changing a column type to Auto-Number will preserve existing cell data so you can use it in your auto-numbering pattern if desired.
---
Video Demo
For an instructional overview on the different column types, please review the video below:


If you don't have access to YouTube, click here to watch the video.