With row-level reminders, you can alert yourself or others about specific tasks in your sheet. For example, set a reminder for the estimated start date on a specific task to stay on track with your project.
Create row-level reminders
To create a row-level reminder:
On the row you'd like to set a reminder for, select the bell icon in the row action indicator column If you've never set a reminder before, you'll need to right-click the row number and select Set Reminder... from the context menu.

The New Reminder window appears



Select Save
You've now created a row-level reminder to alert yourself of this task. For any row with a reminder, you'll see the bell icon in the Row Action Indicators column
Modify your reminder to make it more dynamic
To make changes to existing reminders, select the bell icon for any row that already has a reminder. The Reminders window appears.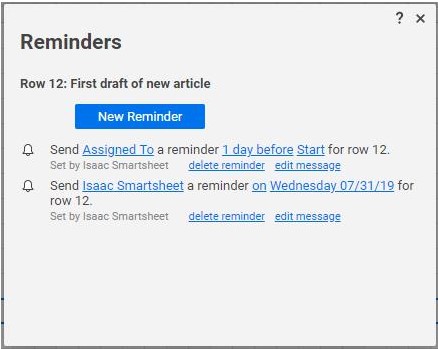 In the Reminders window, you have the ability to delete or edit reminders:
Recipient: Select the contact or column name that is associated with the current recipient

Timing: Send the reminder before, on, or after the specified date.

Date Trigger: Select the date button to change the specific date or date column that drives the reminder

Custom Message: Select edit message to create a custom message for the recipient of the reminder