If you log in to Smartsheet using a password that doesn't match what's set up on your account, you'll see the following error message:

The information you entered is incomplete or invalid.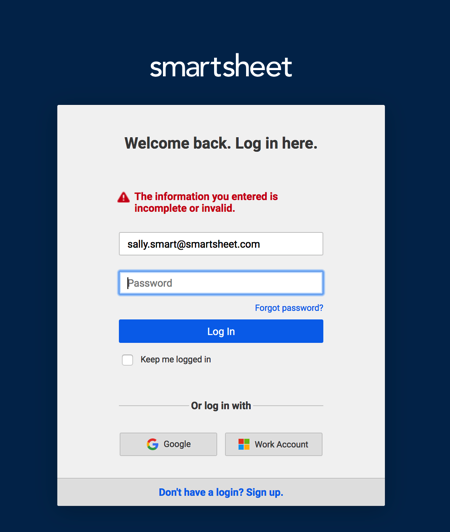 If you exceed the number of login attempts and aren't successfully able to log in, you'll be locked out of the account and won't be able to log in even if the correct password is used.
Unlock a Blocked Account
To unlock the account, do the following to reset your password:
Visit the Password Reset page at: https://app.smartsheet.com/b/pwd.
Follow the instructions on the screen.
You'll receive an email with a link you can use to create a new password for your Smartsheet account.
To access the password reset link, copy the link from the email, paste it into your browser's address bar, and then press Enter or Return.
You'll be directed to a screen where you can enter a new password, confirm the new password, and then continue to access your Smartsheet account.
NOTE: Passwords must be at least 10 characters long.
If the password reset link received via email is truncated or if additional characters are appended to it, this will invalidate the link and you'll receive the following error message:
Unable to automatically sign you in - please enter your email address and password.