Capabilities
Who can use this capability
You must be a Primary Lead or Admin to work with programs in Control Center. 
Delete projects from Smartsheet Control Center
Manually delete one or multiple provisioned projects and their underlying assets if you no longer need them.
You can't recover deleted projects in Smartsheet Control Center. Use the archive function if you want to preserve project data.
How to delete projects
In Control Center's project list page, select the checkboxes in front of the projects that you want to delete. Select multiple projects to delete if you need to do so.
Brandfolder Image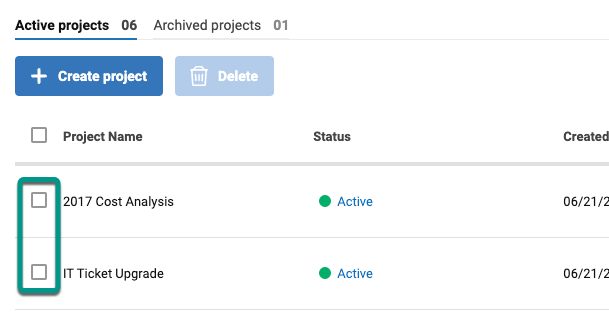 Select Delete at the top of the page.
In the Delete projects screen, select if you want to delete the project folder and its contents. The checkbox is unselected by default.
Brandfolder Image

When you delete the project folder and its contents, you only delete the folder and the assets. You don't delete the workspace created for the Control Center solution.
By selecting the checkbox, you choose to delete the following:

Project WorkApp
Project assets (These are the assets created via the template associated to the blueprint)
Intake row
Summary row
Resource Management project, if applicable. In the pop-up window, leave the checkbox unmarked if you want to keep your Resource Management project.
When deleting from a Multi-tier Control Center solution, if you delete the parent project, you delete the child projects associated with it.