Templates: Create Your Own or Use One from the Solution Center
Starting a project from a template can save you time and help you maintain consistency across standard elements such as column names, column types, and conditional formatting rules. Keeping things standard in this way will help you when you want to create rollup reports or dashboards from multiple sheets.
If you are planning on using a solution to accommodate your business case at scale, consider working with our Solution Services team. They'll be able to assess your situation and design a solution specifically to address it.
---
Use a Pre-Built Template
You'll find hundreds of pre-built templates in the Solution Center right in the Smartsheet application.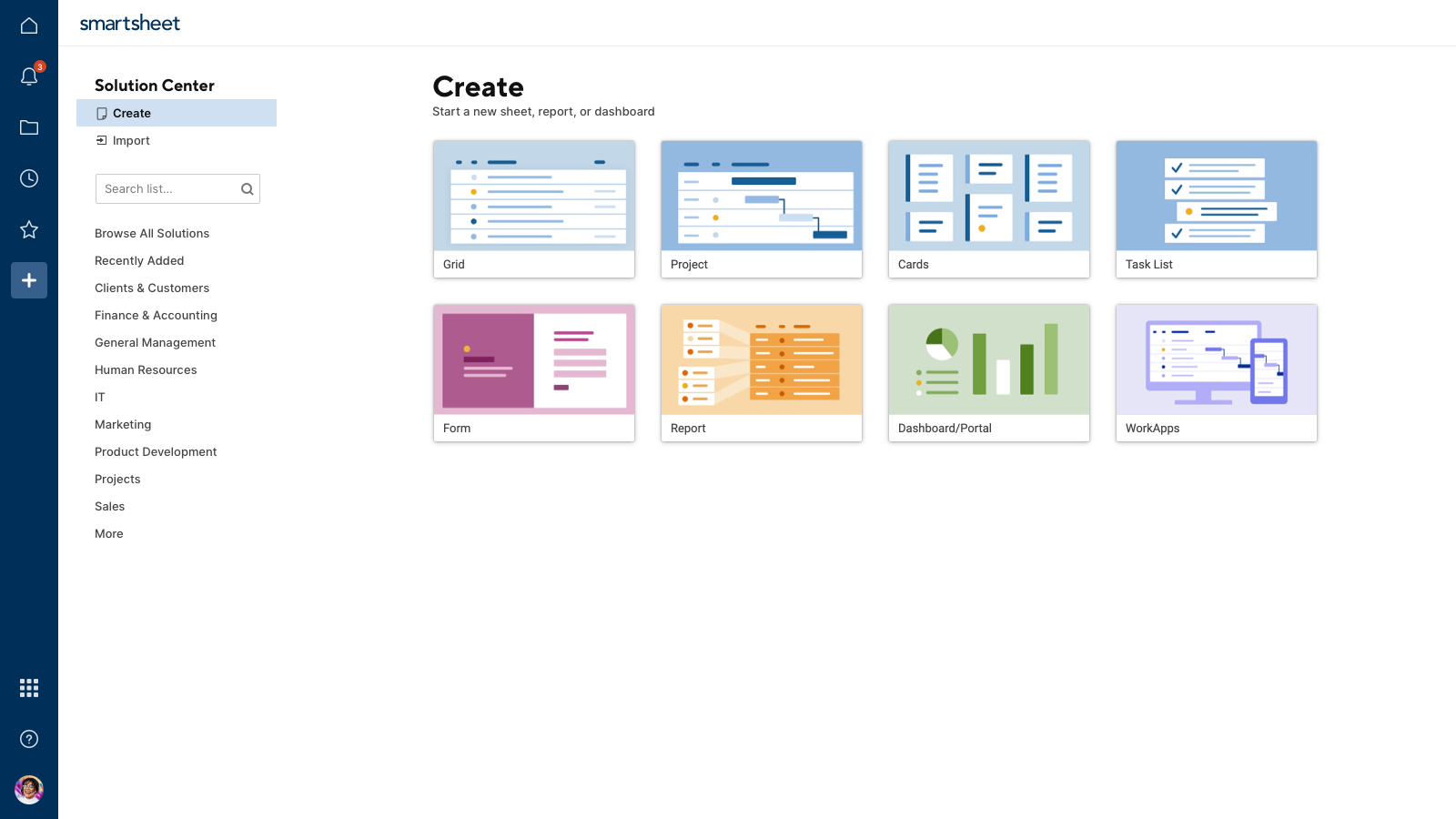 You can customize these pre-built templates in the same way you can edit sheets—for example, you can edit cell data, change column types, or include your own attachments as needed.

The sheet name will be the same as the name of the template—you can rename it if needed. (For information about how to rename a sheet, see Creating and Renaming Sheets.)
Some templates may include example data to familiarize you with certain features, such as comments, cell examples, formulas, and more. You can eliminate examples from the template by using "Save as New..." and selecting Data and Formatting preferences. For more information, see Copy a Sheet with Save As New.
Visit the Solution Center in Smartsheet Now
Find the Solution Center in Smartsheet
Click the Solution Center icon (plus sign) on the left Navigation Bar. 
---
Create Your Own Template
You can create a template from any existing sheet. Columns and conditional formatting rules will always be saved to the template. You can also choose to include notification settings, and specific data and formatting options such as row data, manual formatting, attachments, discussions, and forms.
Open the sheet you'd like to save as a template.
Click File > Save as Template to open the Save as Template window.
Enter a name and description for your template.
Click Automated Workflow & Alert Options and Data & Formatting Options to specify which of the options you would like to save with your template.

To retain column names and types only, uncheck Sheet data and formatting. 
Click Save.
The template will be saved in the same folder or workspace where the originating sheet is stored. You can drag it to other folders or workspaces from Browse if needed.

NOTES:
Templates you create are not accessible from the Solution Center which is public to all Smartsheet users.
The template will only be visible and usable by you. To make it accessible to others, see the share a template section of this article.
Templates cannot be edited directly. To change a template, you'll need to edit the original source sheet and re-save it as a new template.
Although all automated workflows are preserved in the template, any rules that are configured to be sent to specific people (as opposed to a Contact list column) will exclude the email addresses. You must re-enter these email addresses in to these types of workflow rules on any new sheets created from the template.
---
Use a Template That You Created
To create a new sheet from your own template:
Locate the template.

Templates you create are stored in the same folder or workspace where the originating sheet is stored. To find them, click Browse on the Navigation Bar. From Browse, click on the folder or workspace name in the left panel.
Click on the name of the template.
A preview of the template will appear.
Click the Use Template button in the lower-right corner of the window to display the Use Template window.
Name your sheet and decide whether to include all of the features you originally saved to the template (for example: data and formatting, attachments, discussions, and forms). You can also choose to save the sheet in a different folder or workspace.
Click Save.
---
Share a Template
Templates can't be shared individually, but they can be moved into a shared workspace. Anyone shared to the workspace with Admin access can create new sheets from your templates as long as they are a licensed user in Smartsheet.
For more information, please see "Moving Existing Items into a Workspace" in  Managing Items in a Workspace (Add, Move, Remove).