Organize your work with templates from the template gallery
The Template Gallery helps you save time creating solutions to improve your work processes. Use templates to discover new capabilities, learn best practices, and get more from Smartsheet. 
If you want a solution to accommodate your business case at scale, consider working with our Solution Services team. They can assess your situation and design a solution specifically for your needs.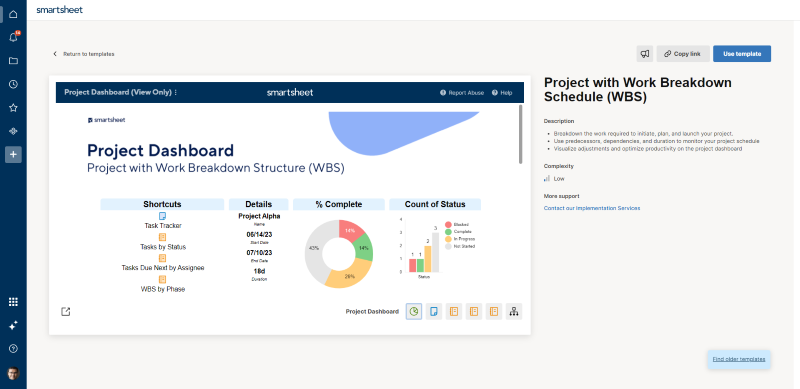 Explore the Template Gallery
Select the Templates icon on the left sidebar. Or go to  https://app.smartsheet.com/r/template-gallery.
Select a category from the dropdown at the top of the page. Use filters to narrow your search. 
Select the Template thumbnail for a description and live preview of the solution. Use the icons below the preview window to see each included element. 
Select Use template in the top right corner. The template and its contents load as a new workspace in your account.
---
Customize your template
You can edit templates like sheets, forms, automation, reports, and dashboards. For example, edit cell data, change column types, adjust report filters, and create new widgets to make the template work for your use case. You can modify everything in the template to match your needs and processes.
To personalize a template:
Rename the workspace, sheets, reports, and dashboards. Renaming items does not change how the template functions.

Select each element and examine its capabilities, starting with the sheets, reports, then dashboards. For example, check if the sheet includes formulas, a form or automation. 

Clear the sample data after becoming familiar with the solution. To maintain the integrity of the solution, be mindful not to delete cell references, formulas, hierarchy, or other capabilities that may affect how the solution functions.

Share your solution. Templates create their own workspace. Anyone shared to the workspace with Admin access can add, subtract, and modify your solution. See Managing Items in a Workspace (Add, Move, Remove).