Every project has an individual Project Page, where you can start building new projects and monitor them regularly as you progress through the project.
From the Project Page, you can:
Set a project budget in time, fee, or expenses (non-labor costs). This is your estimated goal to meet your targeted profitability or deadline

Add people to the project to create a work plan that fits the estimated budget

Assign project responsibilities and due dates to your team by creating Work Items

View real-time work progress of the project and monitor your budget over time

Use the quick links to project reports to analyze the data behind the work progress
The Project Brief is the default view of your Project Page. It provides a high level summary of the project description, people currently working on the project, a visualization of the project timeline, and progress of current work. All project properties are also visible on this page.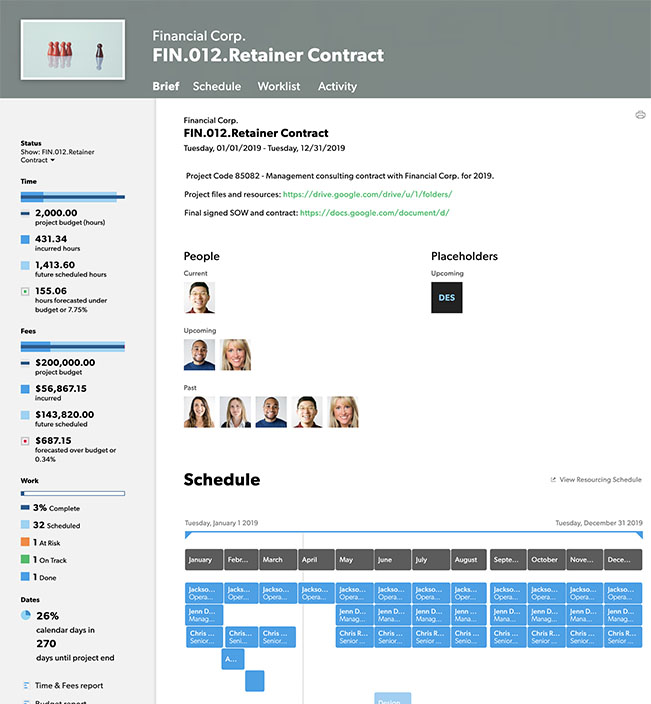 Project Title and Description
The title section of the Project Brief includes:
Client name

Project name

Project start and end dates

Project description (up to 2,048 characters, including line breaks)

Clickable links contained in the description
Schedule
The Schedule here provides a high-level overview of the entire project timeline in a non-interactive visualization.
This overview displays project phases and people scheduled to work on the project, with the current day represented as a vertical grey line. Clicking anywhere on this schedule will navigate to the Project Schedule tab. Right clicking here (or ctrl + click) allows you to save this image so you can share with your team or other key stakeholders.
Current Work
The Current Work area shows any phase, work, or assignment with a date range that overlaps with the current day. This section provides a filtered view of current project assignments, which displays the types of work or assignments that are currently going on, along with the work's status.
Clicking on the phase name will take you to the Worklist tab and clicking on an assignment row will navigate to that specific assignment in the Worklist.
Project Properties
Tags and Custom Fields are high-level project properties that appear on the Project Brief to describe the project. Links added here are clickable.
Project Status and Reports
The status of the project's work, time, and fees are displayed on the left of the Project Brief for every tab view on the project page.
The "Show" dropdown filters what data is displayed. You can see information pertaining to:
The entire project (default)

Non-phase specific

Specific phase
Quick links to the Time + Fees and Budget Reports are displayed at the bottom of this section.
Use the Project Brief in your weekly team meeting as an agenda and a way to record and clearly communicate each person's responsibility.