When project priorities or details change, it's important to update this information so the project data remains accurate.
Administrators and Project Managers can edit information for multiple projects at once on the Projects Portfolio Page.
Editing Multiple Projects
To edit multiple projects, navigate to the Projects Portfolio Page and follow these steps:
Navigate to the List View by clicking on the List View icon. Here, you can choose which project information to include in your current view.

Use filters to view the projects you want to edit. You can also choose one of your predefined Saved Views or Shared Views.

Make sure that "Project State: Active" is applied. You won't be able to use this feature if you have any archived projects selected based on your filters.

From this filtered view of active projects, click on the Edit Project button.

Select the projects you want to edit by clicking on the box to the left of each project's icon. Once you've selected at least one project, make changes by selecting a field under Actions or Edit Properties on the right-hand side.

Actions
You can bulk archive completed or historical projects from your Project Portfolio. We recommend archiving any projects you've completed or projects that you no longer want to track time towards.
Archiving projects will end ongoing assignments and remove future assignments. This cannot be undone.
Edit Properties
You can make changes to the fields listed, on multiple projects. The default fields you can edit are: Client Name, Project Type, and Project Tags. Because each project can only have one Client Name or Project Type, you can only change these values. You may add or remove Project Tags.
Project Custom Fields can also be edited in bulk for projects, and are listed alphabetically in this section.
If the Custom Field is a text field, you can change this value.

If the Custom Field is a drop down menu, you can change this value.

If the Custom Field is a multiple choice drop down menu, you can add or remove values.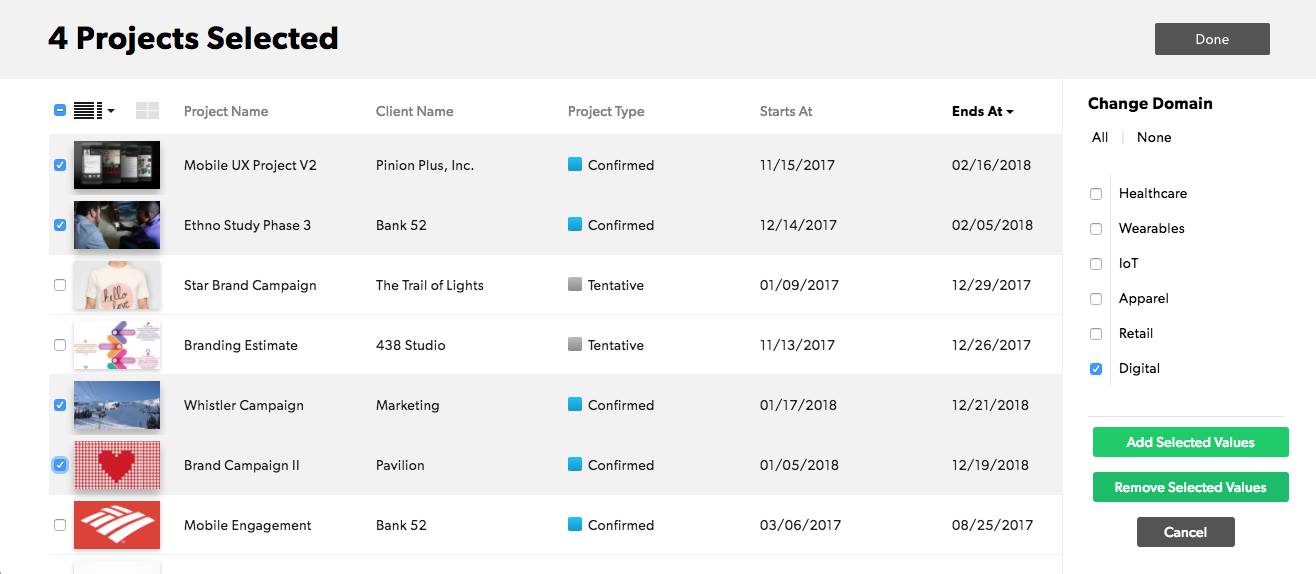 TIP: To create new client names or project tags, first create them in Account Settings. Once created, these options are available via Edit Projects.