You can enable approvals for time, expenses, or both. Only adminstrators can enable approvals. 
To enable approvals go to Account Settings and scroll down to Approval Workflow.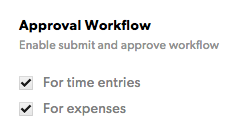 How Approvals Affects Incurred Hours and Amounts
After you enable approvals for time entries, a new option for Incurred Hours and Amounts appears: Approved hours only. This allows you to limit incurred hours calculations to approved time only.
Bulk Approve Past Time & Expenses
The first time you enable Approvals, you might want to approve all past time and expenses up to a certain date. 
To bulk approve past time and expense entries:
In Account Settings, scroll down to the Approval Workflow section and then click Bulk Approve.
Select Save and Continue.
On the Bulk Approve page, select the options you want to use. You can approve all time entries, expense entries, or both up to and including a date you choose.
Select Approve all.
Double check your selections; Bulk Approve cannot be undone.