There are three ways to track time in Resource Management. 
1/2 Day Tracking: Designed for teams with little variation in daily activities, this setting tracks time in 4-hour increments.

Hours + Minutes Tracking: This option allows teams to confirm hours for the week or modify hours to show actual time spent on projects.

Itemized Time Tracking: This option captures the most detail, allowing people to track time against categories and add notes to time entries.
Regardless of your time tracking settings, the time tracking module is pre-populated with the hours assigned to you each week. These suggested hours help you budget your time for the week.
Your timesheet is complete when you enter all the time you've worked for the week.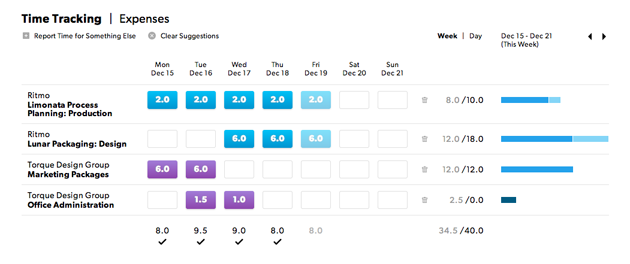 Resource Management suggests the hours you're scheduled to work on a project, but you should always record your actual time, even when these hours differ from the plan. Tracking your time accurately improves project estimation in the future.
1/2 Day and Hours + Minutes Tracking
If you worked the exact hours assigned for each project, click the Confirm at the bottom of your timesheet.

To confirm time:
Go to your Personal Page.

Make sure the hours indicated for your time are correct. Enter any changes as needed. 

Click Confirm. Hovering over the Confirm button will highlight the entry, indicating you can confirm this time entry.
You can retroactively make changes to the time entry until a Portfolio Editor or Administrator locks the hours.
To change suggested hours, click on the time entry and enter your changes.
You might have assigned time entries for more than one project in a day. When you make changes to one of your assignments, Resource Management will assume that the other suggested time entries are correct. If they aren't correct, edit or remove these time entries separately.
If you need to report time for something else, click the Report Time for Something Else, select the appropriate project, and add your hours. 
Itemized Time Tracking
Your team may require you to add more detail to time entries using itemized time tracking. Itemized time tracking is enabled in Account Settings.
With Itemized time tracking, you can assign Categories and add notes to each time entry. These categories and notes will appear on the reports in Analytics and allow your team to better understand where time is being spent. Speak with your Administrator if you can't see Categories listed that match your activities.
Ex. Category: Client Meeting / Notes: Review of Kickoff Concepts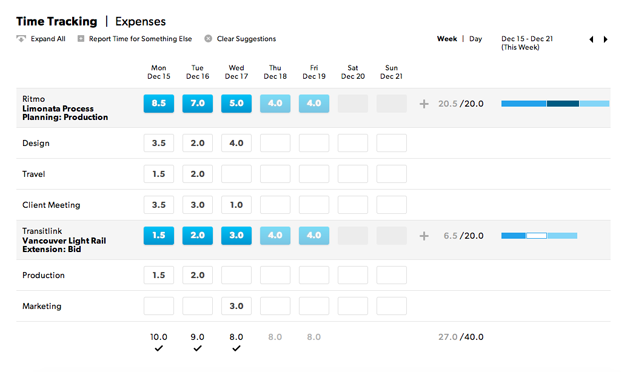 To enter Itemized time:
Click the plus icon (+) on the right-hand side of your timesheet to select a Category of work. You will see a list of Categories specific to your project and general account Categories.

Select the category that best describes the work you completed.

Click on the white time entry field in the Category row to add time. These time entry fields appear below the suggested hours for your project.

Add notes to record a task or comment on work completed.

When you add time for a Category of work, you will see the total hours confirmed for the project or phase listed above.

Click on the project row to expand or collapse Category rows.
Adding Notes:
After selecting a category for a project or phase, you can add notes in either Week View or Day View.
To add notes in Week View, press the down arrow on your keyboard to navigate to the field for adding notes. To add multiple notes to one category on the same day, switch to Day View. When you view a time entry that has more than one Category row associated with it in Week View, you will be prompted to switch to Day View to make edits.

Understanding Budgets
On the Week View, you can see weekly budget information to help you understand how closely your confirmed hours map to your scheduled hours.
When you hover over the blue bar graph on your timesheet, you will see a summary menu with your hours scheduled, hours worked, hours remaining, and any surplus or deficit hours recorded for that project.
Clear or restore suggestions
Resource Management will pre-populate your timesheet with suggested hours for each project or phase for the week.
When you record time for actual hours spent on a project, you may want to clear any incorrect suggestions. Clearing suggestions will clear all suggested hours for the week or day that is in view. It will not change your assignment from the Schedule, however. If you incorrectly clear suggested hours, you can restore them as well.
There is no way to turn off suggested hours on the timesheets.
Deleting a row
If you add a row to your timesheet incorrectly, use the Trash Can Icon to remove the row from your timesheet.
If your account's Time Tracking setting is set to 1/2 Days or Hours + Minutes, removing a row with suggested time will clear the suggestions for each time entry in that row. You cannot remove project rows for projects or phrases that you're assigned to.
Modifying locked time
Locking time in Resource Management happens automatically based on the project settings. Once your timesheet has been locked, contact an Administrator or Portfolio Editor to unlock and modify the hours. Check with your Account Administrator to understand when you're required to submit time entries before they become locked.
Confirming time for other people
Administrators and Portfolio Editors can enter and confirm time on behalf of all Licensed Users. Timesheets of Managed Resources are read-only, regardless of permission level.