The Dynamic View app works in conjunction with the Smartsheet application to present streamlined information to you when you need it and without cluttering your work with unrelated data to your work. You can interact with relevant data without having to enter the Smartsheet app.
This article focuses on interacting with a view in the application. If you're looking for information on creating a view, see Create and Edit View Settings.
Dynamic View is a premium offering available for purchase to Smartsheet customers using a business plan or higher. For more information about how to purchase Dynamic View, please contact Smartsheet Sales.
Before You Begin
You'll be able to gain access to the Dynamic View app after someone has shared a view to you or if an administrator on your plan has given you access to the application.
NOTE: You also need a Smartsheet account to access the Dynamic View app. You'll be guided through steps to set up a free Smartsheet account when you first access the Dynamic View app (with the link below) and click the Log In with Smartsheet Account button.
How to Access
After purchase, you can access the Dynamic View app from here: https://dynamicview.smartsheet.com
For information on browser compatibility for this premium app, see System Requirements and Guidelines for Using Smartsheet.
Dynamic View at a Glance
In the Dynamic View app, you'll be presented with a view that has been customized (by an administrator) specifically for your involvement in a process.
After you sign in to the app with your Smartsheet credentials, the last view (if any) that you opened is displayed.
Click the Menu icon  (upper-left) then the name of a view to open it.

With a view open, click a specific row to show the Details Panel, where you'll make any edits to specific data in form fields. You may not have edit access to certain fields, and you may be required to make changes to a field before saving. What you can do in various fields depends on what an administrator has allowed from their end.
You may see a different number of fields in the Details Panel compared to columns in the view—the appearance of what is available in the view and the Details Panel is controlled by an administrator.
Your View is Customized for You
Each view is customized to make sure that you have access to all of the relevant information to work with.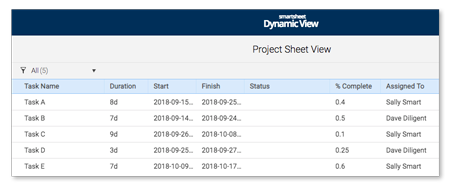 TIP: Click the Filter icon in the upper-left corner of the view to see only rows with a specific value. (This functionality must be configured by an administrator on the view.)
Important! Save Your Changes
After making changes to values in the Details Panel, you must click the Save button (bottom-right) or your changes will be lost.
Clicking outside of the Details Panel or clicking the x icon in the upper-right corner of the details panel will dismiss the panel without saving your changes.
New Information May Appear Conditionally
It's possible that new rows of information will only appear once a condition is met on an existing row. If you're using Dynamic View as a ticketing system, for example, a new case may appear only after you've marked the previous one as Closed in the Details Panel. That way, you can focus on the most immediate case.
Can't Do Something in a View? Contact Your Administrator
Your views are configured by an administrator in the Dynamic View app. If you're not seeing something or you can't edit something that you believe you should be able to edit, reach out to your administrator! (This is typically the person who shared the view to you.)