Applies to
Smartsheet Advance Package
Access Smartsheet Control Center
Before you can get started using Smartsheet Control Center, you'll need access to it. This article helps you do that by outlining the basic access requirements and by providing some best practices for managing how to grant access to others.Once people have the appropriate permissions, they'll be able to access control center from here: https://controlcenter.smartsheet.com
Before You Begin

In order to use Smartsheet Control Center (SCC), you must have an active, licensed Smartsheet account and you must be granted access to a Control Center Program. If you are missing the required credentials when you attempt to log in, you'll receive a message letting you know that. For example, you may receive a "you must have a license..." or a "failed to log in..." message:

If you need a license, please log in to Smartsheet and click Upgrade to request one.
If you need access to a Control Center program, contact a Control Center Program Lead at your organization. The lead can provide access to Control Center by contacting Smartsheet Support on your behalf (for more information about how the lead grants access, see Give Someone Access to a Control Center Program later in this article).
Control Center is a premium offering available for purchase to Smartsheet customers using a Business plan or higher. For more information about how to purchase Control Center, please contact Smartsheet Sales.
---
Log in to Smartsheet Control Center
Access Control Center using the following URL:https://smartsheet.controlcenter.smartsheetapps.com/
Click Log in with Smartsheet.
If are not currently logged into Smartsheet, you will be asked to provide your Smartsheet email and password.
Click Allow to give Control Center permission to access your Smartsheet account.
Use the Launcher in the lower-left corner of Smartsheet to quickly access Control Center after your first log in. 
Depending on your level of access, you'll see different options once you've logged in. For example, if you're one of the leads for the program, you will see a Manage Program link that allows you to access all existing projects, the Control Center Blueprint, and the Global Updates features.
NOTE: Once a project is created from Control Center, any Smartsheet collaborator can use that project as long as they've been given the required sharing permissions. For more information about Smartsheet permissions, please see Sharing Permission Levels.
TIPS:
Give Someone Access to a Control Center Program
If a person tries to log in to Control Center and receives the "You do not have access to any Control Center Programs..." message, that person needs to be granted access to your program.
There are two ways to allow access to Smartsheet Control Center: access can be given to individuals or access can be given to a Smartsheet group. Creating a Smartsheet group will make user management easier. Note that only Program Leads can initiate Control Center access for individual users or groups.
To grant access to a program:
In Smartsheet Control Center, select Manage Program. 
Next to the name of your program (upper-right corner of the screen), click the Information icon.
On the right panel, click Edit.
Type the email addresses of the people that you'd like to add in the appropriate fields. (See the section below for details on the maximum number of people allowed for each user type.)
Control Center User Type Restrictions
Certain limitations apply to each user type in Control Center:
You must contact our Support team to make someone else the Primary Lead. (Click the Contact Support link at the bottom of this page to reach out to us.)
Up to five Program Leads are allowed—you must individually add the email addresses of the Program Leads.
Control Center allows up to ten slots for Project Creators. A slot can be filled with an individual email address, a Smartsheet Group (everyone in the group would become a Project Creator), or an entire company domain (everyone in the domain would become a Project Creator) 
Facilitate User Management with a Smartsheet Group
To streamline user management for Control Center, it's a good best practice to leverage Smartsheet Contact Groups. When access to your Control Center Program is controlled using a Smartsheet group, one of the Program Leads can simply add and remove users to the group to grant access.
For more information about using Smartsheet Groups to manage groups of users, see Manage and Use Smartsheet Contact Groups.
TIP: To make sure everyone who uses Control Center knows what the access groups are, a Program Lead can use the Program Information window in Control Center to document which Smartsheet groups have access to the program. To view program information, click the "i" next to the program name.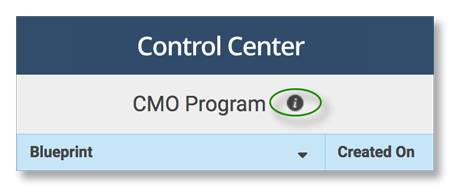 This Help Article Appears in the Following Learning Tracks