Capabilities
Who can use this capability
Owners and Admins can create workspaces.
Workspace
Workspace is an innovative way for creatives and marketers to organize and collaborate on projects within Brandfolder.
Workspace removes bottlenecks so that creatives and marketers can better plan and implement asset development and utilization. Work-in-progress items can be staged on landing pages while the assets are still being developed. Ultimately marketing projects and asset development become more agile.
Workspace also integrates seamlessly with Smartsheet. This not only empowers teams to be more efficient but also provides leadership with high-level visibility into the progress of marketing projects. This insight helps leaders better plan team resources and set organizational goals.
Creating a Workspace and adding team members
At the Brandfolder level, Admins will need to select the + New Workspace button towards the top left-hand side.
A new modal will appear that allows you to add a Workspace name (required), URL (required), due date, and description.                                  
Adding team members and customizing the Workspace 
On the Workspace, the Admin can add team members using the icon above 0 Team Members. This will open the user management modal. 
The settings button will allow Admins to change the Workspace settings and upload a header image. 
Adding reference materials to a Workspace
Adding assets to a Workspace is similar to adding assets to Collections.
Select one or more assets that will cause the bulk management toolbar to appear. Select Add to then Workspace. 
Once you complete this action the asset will appear in the Workspace. Assets that are added to a Workspace can serve as reference materials to help guide teams on new asset creation. Assets can include logos, masthead images, color palettes, and fonts that are used in the creation of new assets. 
Adding tasks and task details
Admins and Collaborators of a certain Workspace can add new Tasks to the Workspace using the Create asset dropdown within a section and select task.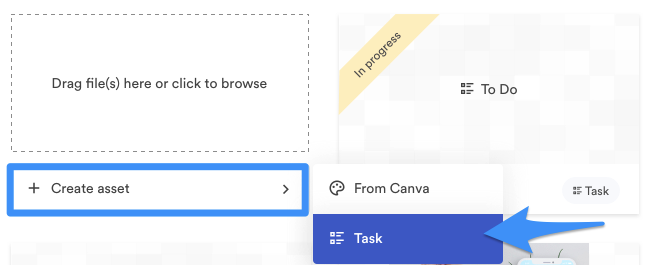 Currently, tasks are created as a generic file with a placeholder To do image. This allows for tasks to appear in integrations such as Adobe Photoshop. 
Selecting Create a task will open an asset modal so that the user can input more detail about this task. Task details include: 
Asset Name

Due Date

- Select a date for task completion.

Priority

- Low, Medium, or High.

File Type

- Select from common generic file types.

Size or Dimensions

- Freeform size info.

Status

- Not Started, In Progress, Completed.

Description

- Freeform description of the Task to be done.

Assign to

- Available team members to assign to the Task.
Once you have filled out this information, Task Details will be available in the asset modal alongside the Asset Details.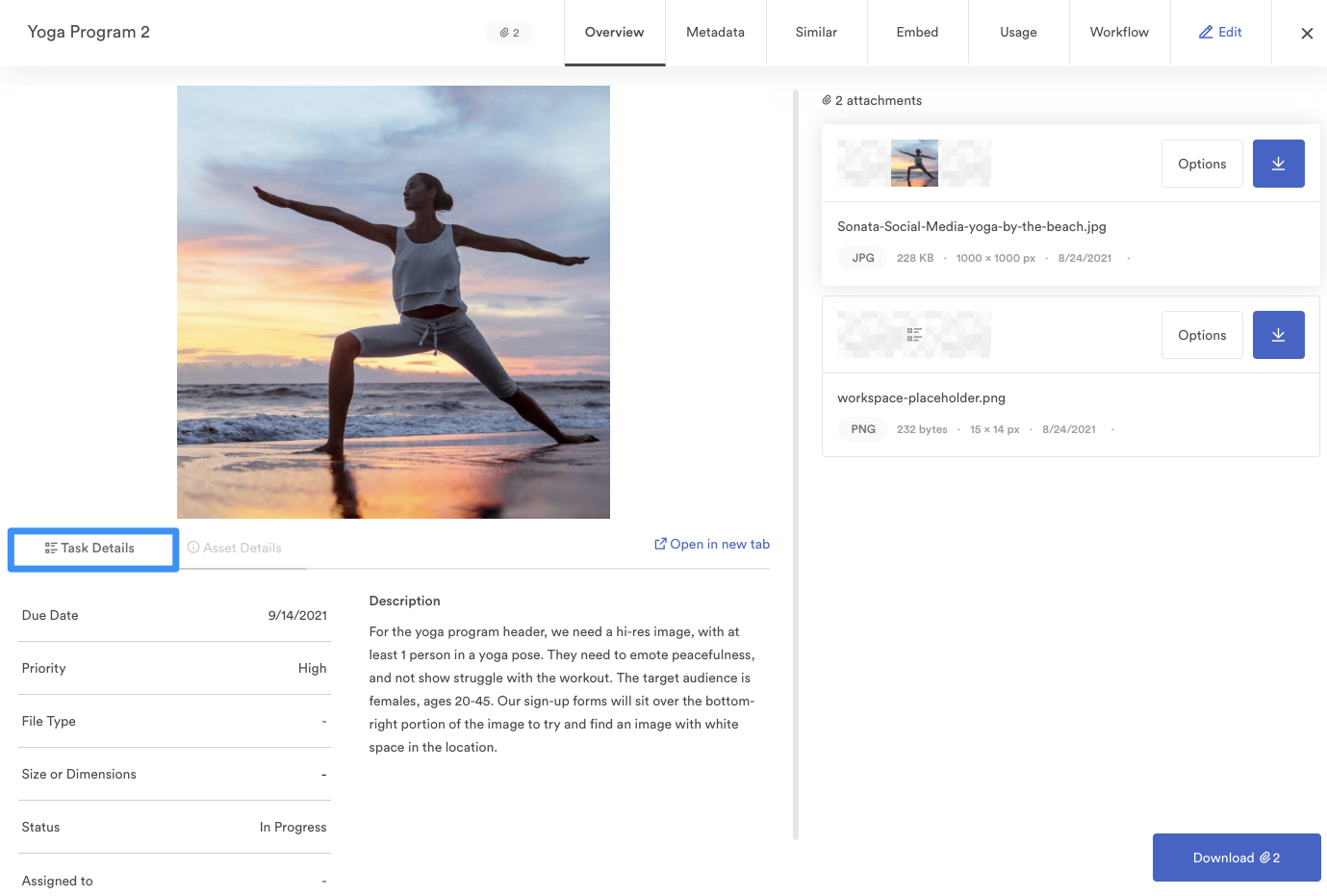 This enables team members to add the appropriate tags and custom fields to the assets while working on the assets. 
CDN links can be accessed on the embed tab and used to add assets to email drafts or landing pages. 
Assets in a workspace that are incomplete will show up with a not started/in-progress banner at the Workspace level for all users of the Workspace. It will also show up as not/started in progress at the Brandfolder level for admin users. Once an asset is marked as complete in the Workspace it will show up for all users who have access at the Brandfolder level. 
Search, sort, & filter 
A Workspace has advanced filters that are project-oriented. Users can quickly toggle to only see items assigned to them. They can also filter by Status, Priority, and relevant Due Dates ranges. 
Assets can also be sorted by what is due next. 
Smartsheet integration
Brandfolder Workspace also closely integrates with Smartsheet. Learn more about the Workspace + Smartsheet integration.