The Schedule serves as your interactive timeline of the project plan. Here, you can create, visualize, and edit the project timeline and associated assignments. Use this view to create phases and assignments and see the direct impact on the project time and fee status.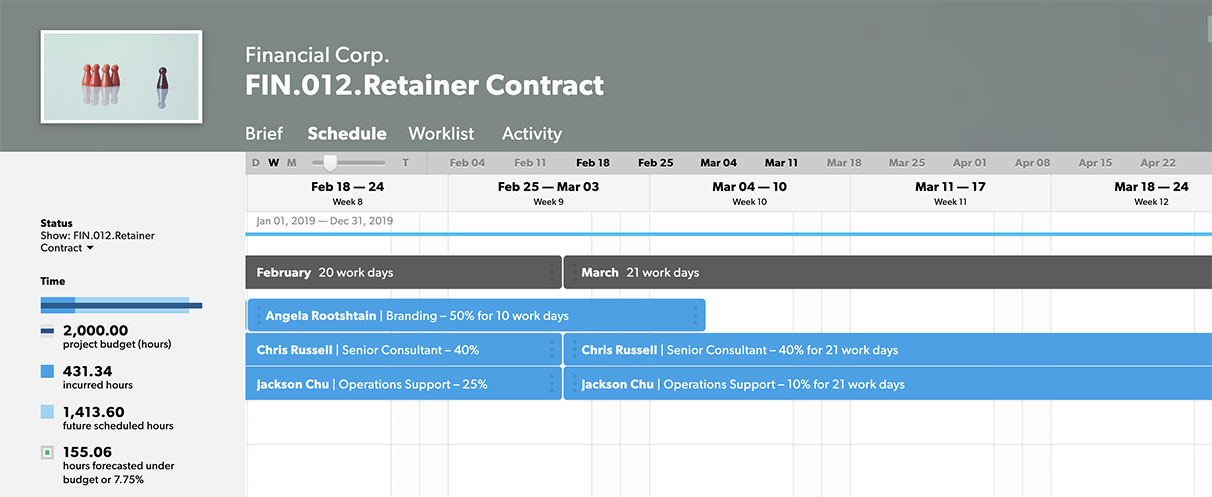 By default, the Schedule auto-zooms to fit the length of your project. You can easily adjust the date by sliding either end of the phase or assignment bars.
Ways to add information to the project
To add phases:
Click on a blank portion of the Schedule where you'd like the phase to begin and select "Add Phase." You'll get to choose from one of the default phase names, or create a new phase name. The phase will extend to the end of the project.
To add assignments:
Click anywhere on a blank portion of the Schedule (project-level) or click on a phase name (phase-level) and select "Add Team Member" to assign someone to the project or to a phase. The assignment duration starts on the current day (or the project start date if it's in the future) and extends to the end of the project or phase
To add descriptions of work:
To add work to an existing assignment, click on a team member's assignment and choose Worklist then Describe the work, assignment, etc from the menu.

To add a description of work when without assigning it to a team member, click anywhere on a blank portion of the Schedule and select Add Work Item, and enter in text to create a new Work Item that starts on the current day (or the project start date if it's in the future) and extends to the end of the project