The Smartsheet Live App for Quip allows you to put context around your conversations directly into Quip documents with embedded sheets, reports, and dashboards. Add a sheet from Smartsheet to a Quip word processing document, for example, to include live data of your latest estimates for a monthly budget proposal.
CAUTION: The Smartsheet Live App for Quip uses the Smartsheet publishing feature to add Smartsheet items to Quip documents. Due to this, it has the potential to expose sensitive data outside of your company. To share the information in a more limited way, set more restrictive publish options as described below. For details on publishing in Smartsheet, check out the Publishing Smartsheet Items help article.
Before You Begin

When you work with Smartsheet and Quip, you'll use a published version of a Smartsheet item (sheet, report, or dashboard). Before connecting Smartsheet items to Quip, make sure you meet the following requirements in both Smartsheet and Quip.

Smartsheet Sharing Permission Requirements

You must be the Owner or have Admin-level sharing permissions to the Smartsheet item that you want to add to Quip. Check out the Sharing Permission Levels article for details.

Salesforce Quip Requirements

This integration is available for the cloud instance of Quip only (not the desktop application).
Currently, only Quip admins can install Live Apps for Quip, including the Smartsheet Live App.  (Use this link to install the Live App - https://www.quip.com/install-live-app?id=TJZAjAOwCDt.)  If you are not a Quip admin, you need to contact your Quip admin and request that they install it.  

If you need help determining who your Quip admin is, contact Quip support (support@quip.com) to get help enabling the Smartsheet Live App for your account.
 
You must also be shared to the Quip document (from within Quip) in order to add the Smartsheet Live App to it.
---
Add and Work with Smartsheet Items in Quip Documents
To add a sheet, report, or dashboard to a Quip document:
Type @Smartsheet in the body of the document where you want the Smartsheet item to be inserted and press Enter (or Return).

A Smartsheet Live App window will appear in the document, where you'll see either your Smartsheet directory or a prompt to log in to Smartsheet.
 
Locate and select the item you want to add.
Choose your desired publish settings:

Should this be editable? You can allow sheets to be edited directly within the Quip document. (Note that reports and dashboards can't be published as editable.)


Who should be able to access it? Restrict access to only people in your account or allow anyone who has access to the publish link or Quip document to view it.
That's it! After you add Smartsheet items to your Quip document, you'll be able to take advantage of Quip's powerful comments and @mention features with sheets, reports, and dashboards.
Copy or Delete Smartsheet Items from a Quip Document 
To see more options (copy, cut, delete, open in Smartsheet), select the desired Smartsheet item in the Quip document and click Smartsheet at the top of the item.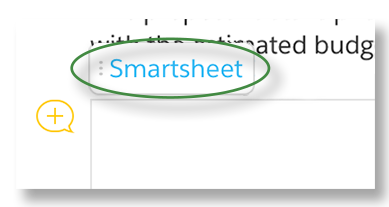 Sign in to Your Smartsheet Account from Quip
When you add a Smartsheet item to a Quip document, you may be prompted to sign in to your Smartsheet account.
If you see the below screen when adding the Smartsheet Live App to your Quip document, click Log In.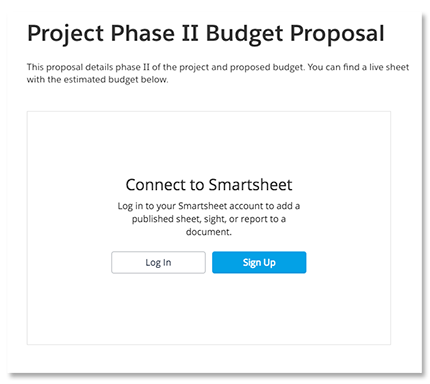 During the login process, you'll be asked to authenticate the use of Smartsheet with Quip. Click Allow to authorize Quip to connect with your Smartsheet account.