This article contains troubleshooting steps for some of the issues Smartsheet customers encounter. 
Not Receiving Email from Smartsheet
There are a number of reasons you or a colleague may not be receiving email from Smartsheet. Some basic troubleshooting steps include checking your spam or junk email folder. You may also need to work with your IT department to ensure that Smartsheet email addresses are included in any allow lists that your organization maintains.
For more information, see Issue: Email Not Received from Smartsheet.
Smartsheet Is Slow to Load or Save, or Does Not Respond
Sheet Slow to Load or Save
If you're having issues with a specific sheet, the most likely cause is that the application is timing out because it's processing significant amounts of data. This most commonly occurs in the following situations:
You are using an old browser version
The sheet you are working with is approaching the size limit: 20,000 rows, 400 columns, or 500,000 cells
The sheet you are working with is using a lot of advanced functionality (conditional formatting, formulas, predecessors, inbound cell links)
The larger and more complex a sheet is, the more processing power it takes for your browser to load and save changes to the sheet. If a sheet is slow to load or save, try the following:
Log in to Smartsheet from a different browser (for browser requirements, see System Requirements for Using Smartsheet). If using a different browser resolves the issue, switch to a different browser or consider upgrading.
Reduce the sheet size: If a sheet is nearing the size limits of 20,000 rows, 400 columns, and/or 500,000 cells, consider deleting rows or moving them to another sheet to reduce the sheet size.
When appropriate, move rows to other sheets if they have been completed or are no longer needed on your active sheet. Also consider breaking up sheets into logical divisions, such as by month, then using Reporting to review rows from different sheets as needed.
Save changes more frequently or in batches, this way there are fewer updates to send to Smartsheet.
Old versions of Internet Explorer (IE) will sometimes display the message "A script on this page is causing your web browser to run slowly" on sheets containing conditional formatting. To use conditional formatting, update to a more current browser version.
Smartsheet Is Continuously Loading, Not Responding, or Not Displaying Certain Items
Issues such as Smartsheet not loading, not responding, or failing to display certain items are often caused by issues with your browser version, browser extensions, or add-ons. Browser extension issues may also interfere with certain hardware functionality, such as being able scroll using the mouse wheel.
Ensure that you're using the most up-to-date version of the browser available (for browser requirements, see System Requirements for Using Smartsheet).
Here's how you can check your Browser version:
Chrome: Click Customize & Control > About Google Chrome
Firefox: Click Settings > Open Help Menu > About Firefox
Internet Explorer: Click Tools > About Internet Explorer
Safari: Click the gear icon > About Safari
To troubleshoot issues caused by browser extensions, follow the steps appropriate for your browser version to access extensions:
Chrome: Click the Customize & Control icon in the upper-right corner of the browser, then click Tools > Extensions. 
Firefox: Click the Settings icon in the upper-right corner of the browser, and then click Add-ons.
Internet Explorer: Click the Tools icon in the upper-right corner of the browser, and then click Manage add-ons.
Safari: Click the Safari Settings (gear) icon in the upper-right corner of the browser, and then click Preferences > Extensions.
Disable all of the extensions to see if the issue is resolved. If so, re-enable the extensions one at a time to see which one specifically was causing the issue. Please report the extension issue to Smartsheet Support so we can log the issue with our development team for potential correction.
If you're using a Windows computer, check to ensure TLS is enabled in the browser:
Click the Start button in the bottom-left corner of Windows.
Select Control Panel.
Click Network and Internet.
Open the Internet Options window and click the Advanced tab at the top.
Scroll down to the bottom and check the boxes to Use TLS 1.0, Use TLS 1.1, and Use TLS 1.2. 
Click OK.
Reload the Smartsheet login screen at https://app.smartsheet.com.
Troubleshoot Connection and Sign In Issues
This article contains troubleshooting steps for network related issues that may block access to Smartsheet or features within the application.
Server and security settings that block certain network activity can cause access issues including, but not limited to the following symptoms:
Smartsheet not loading
Errors when attempting to sign in to Smartsheet
Inability to open certain items
Failure to access or download attachments
To ensure access to our sites, ask your IT group to add *.smartsheet.com to your Allowlist.
If you're having trouble with Attachments in Smartsheet, ask your IT group to add s3.amazonaws.com to your Allowlist.
Be sure to add the domain above to the Allowlist, as opposed to particular IP addresses, as these can and do change periodically.
Missing Data
If you've lost data that you are sure was saved to your sheet, here are some things to verify and try:
A filter may be applied that is temporarily hiding rows from view. Click the Filter button to turn filters off.
Columns may be hidden in the sheet: Right-click any column header and select Unhide All Columns to see if this brings the missing data back into view.
Parent rows may be collapsed in the sheet, hiding their indented child rows. Click the drop-down arrow under the primary column header and select Expand All to see if this brings the missing data back into view.
If the sheet is shared, someone else may have saved changes to the same cell after you did, overwriting your changes. Right-click the cell and select View Cell History to see if your data is stored here. You can copy and paste it back into the sheet if needed.
Missing data or a blank report. If you find that a report looks different to you than it does to someone else, you may not be shared to all of the source sheets. Sheets that you do not have access to will be listed as <unknown sheet> within the report builder. Reach out to the owner of the report and have them share all of the source sheets with you. (More information sharing.)
If data is not recoverable, check to see if you have a backup of the sheet. For information about backups, see the "Download Recent Backup Requests" section of the Create a Backup Copy of Your Smartsheet Data.
Login, Account, or Other Access Issues
"Your Browser Is Not Supported" Message
Smartsheet works best if you use a modern browser. If you attempt to log in using an unsupported browser, you'll receive a "Browser Not Supported Message" and you won't be able to log in. For more information about which browsers and versions are supported, see the System Requirements article.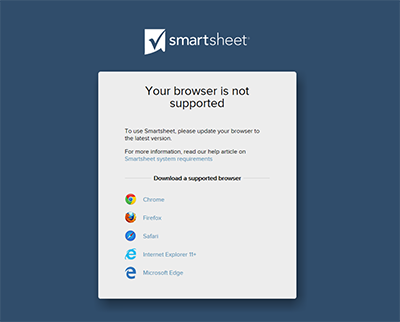 If you are using a supported browser version, but you still receive the "Not Supported" message, it may be because you are running your browser in compatibility mode. Compatibility mode helps you view web pages that were designed for previous browser versions and may not work in modern versions. If you don't need to use compatibility mode, try turning it off to see if this allows you to log in to Smartsheet. If you do need to use compatibility mode, you'll need to configure it to exclude Smartsheet from the list of sites that run in that mode.
Internet Explorer: Exclude Smartsheet from Compatibility Mode
From Internet Explorer, press Alt to display the menu bar.
From the menu, click Tools > Compatibility View settings.


 
In the Compatibility View Settings window, do the following:

Make sure that Display all websites in Compatibility View is not checked.
Under Websites you've added to Compatibility View, look for app.smartsheet.com, select it, and click Remove (this will remove Smartsheet from the list of sites that use compatibility mode).

Click Close and refresh the page.
The next time you log in to Smartsheet, it should recognize the true version of your browser (pages that you leave in the list will still leverage compatibility mode).
Person Shared Unable to Access Sheet
If you've shared a sheet with someone and that person is unable to access the sheet, try the following:
Check the email address to which you've shared the sheet to ensure there are no typos.
Have the person log in by visiting https://www.smartsheet.com/b/home, rather than clicking on any links in their email.
Have the person look for the sheet using the Search box in Smartsheet. If they can't locate it, have them review the email address they're logged in with (this will be listed under their picture in the upper-right corner of the Smartsheet window). People shared to the sheet will need to be logged in with the same email address to which you've shared the sheet.
If you're on a Team, Business, or Enterprise account, keep in mind that adding someone through the user management screen won't give them access to any sheets. Use the sharing feature to accomplish this.
Sheets Changed to Read-Only After Trial
Anyone without a user license (paid subscription) is able to start a free trial of Smartsheet. This includes people who are collaborating for free on your sheets. When their trial expires, their account will revert to a "free collaborator" account type. For detailed information about account types, see User Types.
Free collaborators are able to log in and access sheets that you own. However, any sheets that those users created during their trial will become locked in read-only mode—and those sheets will deleted from Smartsheet after 90 days. To avoid losing the sheets, you can do either of the following:
Error on the Login Screen: ERR_CONNECTION_CLOSED
If you navigate to the Smartsheet login screen at https://app.smartsheet.com and see an error message stating "ERR_CONNECTION_CLOSED" here are some things to try:
Have your IT team add smartsheet.com to their bypass proxy list to see if this resolves the issue. The issue could be related to proxy settings. Many SSL proxy vendors delay support for state of the art cryptographic methods and functions. This can lead to interoperability issues when sites, like Smartsheet, deliver the highest quality and most modern protections for your data.
Check with your IT team to see if they use any SSL inspection or proxies in your network design, specifically ask if they use any devices from the following vendors:

BlueCoat ProxySG 
SonicWall NSA - Configuring Inclusion
Cisco ACE 
Fiddler
If your IT team does run other SSL inspection or proxy technologies, Smartsheet Support can work with them to troubleshoot and debug the root causes at an engineering level if needed. Please reach out to Smartsheet Support and include the email addresses of users affected by this issue to receive assistance.
If the suggestions above don't resolve the issue or if you have any questions, reach out to Smartsheet Support to troubleshoot further.