Once approved, Smartsheet Control Center easily provisions and configures an entire new project from a central console.
Smartsheet Control Center: Create a Project
Once your instance of Control Center has been configured, you'll be able to launch robust, organized projects more quickly. You'll start by creating a new project in the Control Center application—which will then automatically create all of the Smartsheet items that you need.
To get started:
Click New in the upper-right corner of Control Center.

The Project Builder appears to guide you through creating the project.

Follow the instructions on each screen and click Next (in the lower portion of the window) to advance to the next screen. After you've configured the desired settings for the project, you'll be taken to the Sharing screen.
Configure your desired sharing options and click Create Project.
You'll get a confirmation message when your project is ready.
Click Launch in the lower-right corner of the screen to open the default sheet or dashboard for the new project.
Read on to learn more about working with projects:
Templates
Profile Data
Sharing
Add New Templates
Edit Project Information
Update Reporting
---
Key Elements and Capabilities
Templates
Some templates are required for your project but you may have optional templates to include or exclude depending on your needs.

Profile Data
Profile fields vary by the Blueprint you've selected for your project. Certain things that you may need to configure include: 
Selecting the project you want to create  
Selecting a particular workspace for the project
Entering specific Profile Data (more on Profile Data here).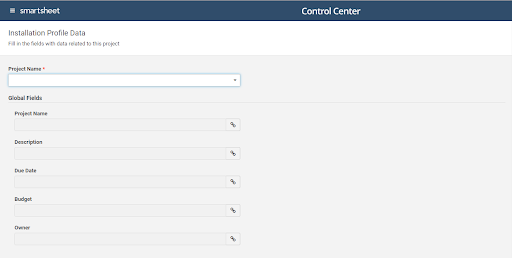 Sharing
Type the names or email addresses of the people who you want to share this project to.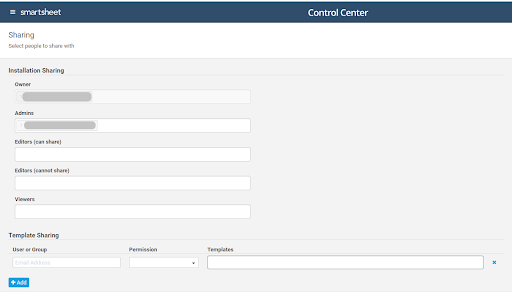 Certain people may already be shared to your project. Keep the following in mind:
If your team already has access to the workspace, you don't need to share the project again. 
Program Leads are shared by default
Project Creator is shared by default
Additional users and groups may appear by default if configured in the Blueprint (More on Blueprints here)
NOTE: You can limit access to specific templates. For example, you may want a "budget" template to be seen only by the financial planner on your team. To share a template with specific team members, fill in User or Group and Permissions, and then start typing the template name. The field will autocomplete with the optional template name.
New Templates
You can add optional templates to the project after it has been created. To do this, select the project you want to add templates to and click Add New Templates.
NOTE: The templates must already be in your Blueprint Source folder and set as optional in the Blueprint Builder. (More on Blueprint Source folders here.)
Edit Project Information
If a project owner changes roles, you may need to update the project information so the new project owner can make changes. To edit project information, select the project and click Edit Project Information.
NOTE: Only Project Owners and Program Leads can edit project information.
Update Reporting
To see the latest information about your project, select the project and then click Update Reporting at the bottom of the screen.
TIP: If cell links aren't working as expected, click Update Reporting to reconnect items that have become disconnected or corrupted.
Troubleshoot Common Issues
Problem: Your project isn't listed as an option.
Solution: Add the project to the Intake Sheet (or request its addition). (More on the Intake Sheet here.)
Problem: You can't create the project in the selected workspace.
Solution: Request Admin permission to that workspace.