Column types help you get better control over what data is allowed in columns—use specific types to ensure more consistent data entry. You can also add a column description to provide more information about your column.
For information about the different column types in Smartsheet, see Column Type Reference.
---
Edit a column to change its type
To change an existing column type, using the Column Properties window: click the dropdown arrow
 under the column header and select Edit Column Properties.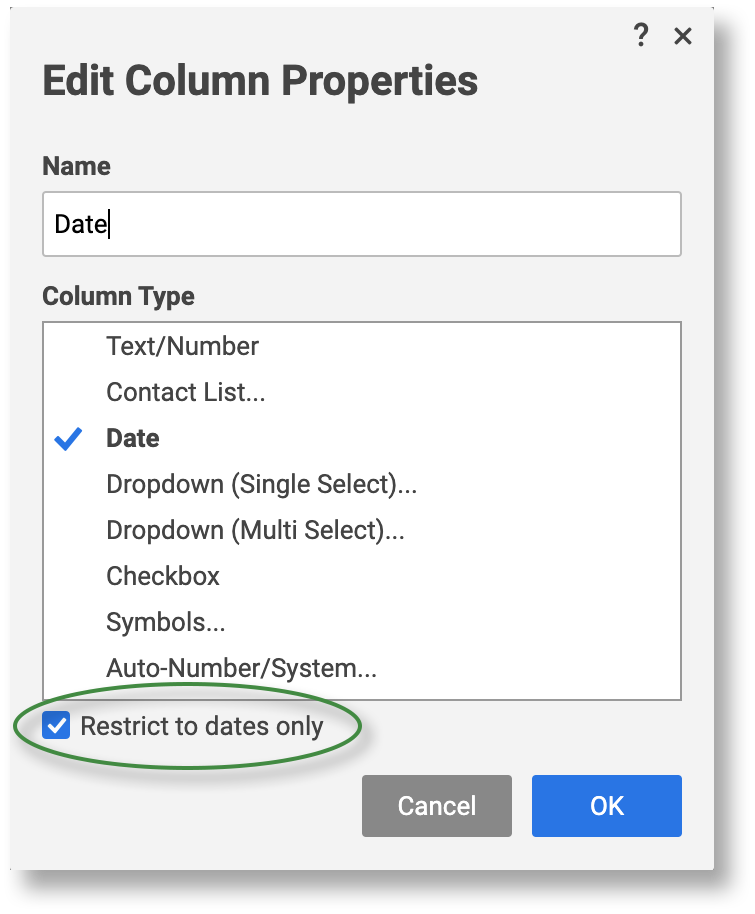 NOTES:
Even when a column property is set, it's possible to type text freely into a cell (one exception is read-only System columns).
If you're the sheet Owner or are shared to the sheet with Admin-level permissions, you can prevent others from adding free text by checking the Restrict to checkbox when you edit column properties or create a new column. For more information, see Control Data Entry and Allow Only Specific Values in a Column.
If a column is enabled in the project settings of a sheet, its type will be displayed as Date/Time, Duration, or Predecessors and the column type won't be editable.
---
Include a Column Description
Explain important information about a column in a custom tooltip; people can access the information by hovering over an information icon below the column header. Use a column description, for example, to document how you want a particular column to be used and what type of data you expect the column to contain.
NOTES:

You must be the sheet Owner or shared with Admin-level permissions to add or edit a column description.
The column description has a limit of up to 250 characters (this limit may vary depending on the language or character type you use).
Column descriptions are visible only in sheets—they cannot be viewed in reports or dashboards.
Create a column description
Right-click a column header and select Add Column Description.

The Column Description window appears.
 
Type your column description in the form and click the OK button to set the description.
An Information icon appears below the column header.
That's it! Now anyone shared to the sheet can view the column description by hovering over the information icon.
Edit column description information
Right-click the column header and select Edit Column Description.
In the Column Description window, make your desired changes and click OK.