Capabilities
Who can use this capability
You must be a licensed Smartsheet user with Owner, Admin, or Editor-level permission on the sheet to create workflows. Users with Editor-level permissions can only create, edit, or delete alerts or reminders with themselves as the recipient. Learn about workflow permissions.
The sheet Owner and Admins can add the Change cell action.
Work with the clear cell value action
Use the clear cell value action to delete the contents of the chosen field when a workflow is triggered. 
To create a new clear cell value workflow:
Brandfolder Image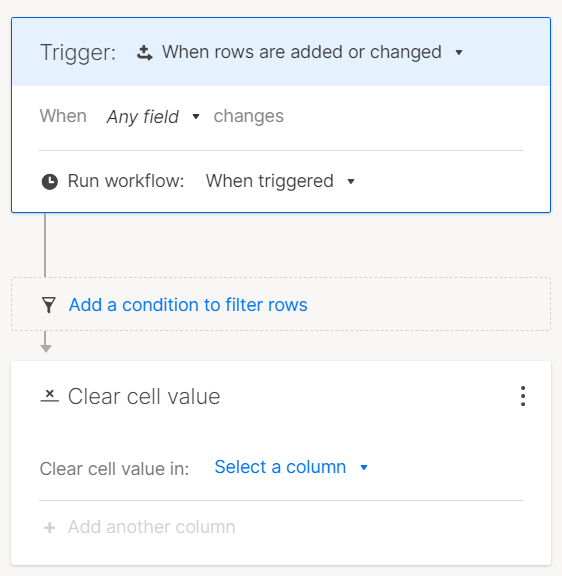 Go to Automation > Create a Workflow.
Inside the workflow editor, scroll down to the action selector and choose the Clear cell value action.
On the Clear cell value action block, choose a field. 
If a Clear cell value workflow's target field is deleted, the workflow is disabled and sheet admins receive an email notification.
NOTES:
In cell history and activity log, the change is attributed to Smartsheet Automation. 
Clear cell value is a terminal action. You aren't able to add conditions or actions after Clear cell value in your workflow.
You can't clear formulas or Auto-Number/System generated columns.
To prevent infinite approval loops, cells containing cross-sheet formulas or cell links don't trigger automations which automatically changes the sheet (Move Row, Copy Row, Lock Row, Unlock Row, Approval Request, Record a Date, Assign People, Change Cell, Clear Cell). To work around this, consider using time-based automation or recurrence workflows.