Contexts are used when building out a workflow that involves chat. They can be used as triggers to extract information from phrases and also as validators through states within the workflow.
Contexts
Bridge has a catalogue of contextual data built in: locations, colors, types of animals, and much more. You can find a complete list below.
As an example of how these work, if a user enters the phrase: 
"I need to buy a red shirt."
Bridge recognises this as:
@sys-im @sys-search to @sys-purchase @sys-a @sys-colors @sys-clothes
In this scenario, it has successfully matched a significant part of the phrase to know contextual data. Depending on the phrase there may be more or less matches.
@sys-im: Matches words for I, I am, I'm, etc.
@sys-search: Matches words describing searching.
@sys-purchase: Matches words describing purchasing.
@sys-a: Matches words for a, an, etc.
@sys-colors: Matches colors.
@sys-clothes: Matches types of clothing.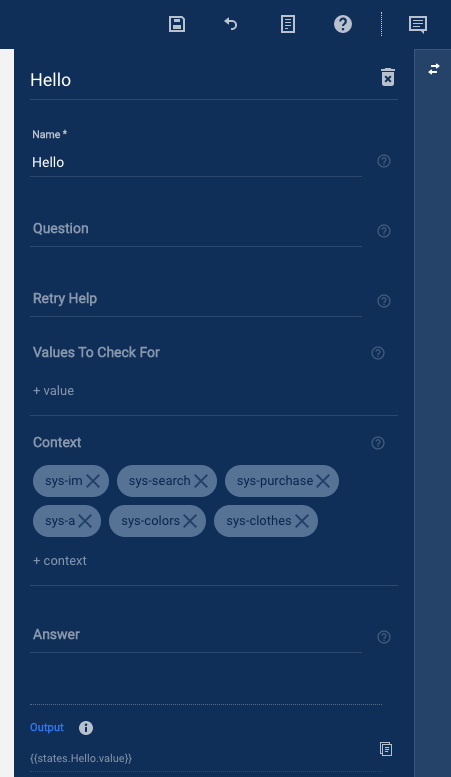 Workflow matching
Bridge will take the parsed phrase and attempt to match it against an existing workflow. If it finds a relevant workflow, it will then automatically extract and match up any sets of contextual data against any required by the workflow. This means that the user does not have to repeat information already given.
You can then have Bridge automatically ask for any remaining information required within the workflow, once again using Contexts to identify that information. 
Missing data and validation
Imagine the user has said, "I need to buy a shirt", and did not mention a color.
You could set up your workflow to ask a question such as,  "What color would you like?", and use the sys-colors context so that Bridge understands it is looking for a color in the response.
Then it doesn't matter if the user replies with any of the following:
Red
I like red.
Do you have it in red?
I would prefer red if you have it.
Bridge will successfully recognize and extract the color from the response to react accordingly in all of these instances.
If the user fails to respond with a match for the desired input (in this case, if their response does not include any colors), you can set up Bridge to re-prompt the user under the Retry Help field clarifying what's needed: "Please specify a color, e.g red, blue, white."
For more information, see Set up States in the Workflow.
List of system contexts
General
 sys-any; Matches any input given.
 sys-comicbookcharacters; Comic Book Characters, e.g. Hulk, Punisher, Tintin.
 sys-clothes; Items of clothing, e.g. Skirt, Dress, Pants.
 sys-universitiesuk; Universities in the UK, e.g. Napier, Heriot-Watt, Imperial College London.
 sys-holidayevents; National and International Events, e.g. Christmas, Labour Day, Ramadan.
 sys-number; Context to match a number (using digits), e.g. 1, 42, 142857.
 sys-language; Common Languages, e.g. English, French, German.
 sys-hobbies; Popular Hobbies, e.g. Dance, Baseball, Coin collecting.
 sys-musicgenres; Music genres, e.g. Rock, Pop, Punk.
 sys-days; Days of the week, e.g. Tuesday, Saturday.
 sys-noblityranks; Ranks of Nobility, e.g. King, Queen, Duke.
 sys-religions; Popular Religions, e.g. Buddhism, Christianity, Islam.
 sys-placesofworship; Places of Worship, e.g. Church, Mosque, Synagogue.
 sys-colors; Colors, e.g. Yellow, Red, Light Pink.
 sys-venuename; Phrases for describing eating establishments, e.g. Cafe, Bistro, Fast food place.
 sys-delivery; ways of saying delivery, eg. deliveries, delivered.
 sys-automotivecompanies; Companies in the automotive industry, e.g. BMW, Mazda, Bugatti.
sys-email; A filter to catch e-mail addresses, e.g. me@example.com, myname@gmail.com
sys-operatingsystems; Operating Systems, e.g. iOS, Windows
sys-stock; identifying if an item is in stock, eg. carry stock, in stock.
Phrases
 sys-no; Ways to say no, e.g. No, Nah.
 sys-yes; Phrases for agreeing/saying yes, e.g. Yes, Yeah, Certainly.
 sys-description; Phrases for describing something, typically for services, e.g. Good, Excellent, Fancy.
 sys-review; Phrases for describing reviews, e.g. Best rated, With great reviews.
 sys-price; Phrases describing how something is priced.
 sys-restaurantfilter; Phrases for describing restaurant features, e.g. Is kid friendly, Has outdoor seating.
 sys-purchase; Phrases to describe buying something.
 sys-search; Phrases for searching for something.
 sys-cancel; Phrases for describing cancelling something, e.g. Can you cancel, Please stop this.
 sys-where; Phrases to describe where somewhere is, e.g. Up, Down.
 sys-closed; Words for describing if something is closed, e.g. Closed, Shut.
 sys-open; Phrases to ask or express if something is open.
 sys-who; Phrases to describe people, singular or plural.
 sys-im; Phrases to describe myself, e.g. I'm, I am.
 sys-book; Phrases for booking services, e.g., Can you book, Could you please book me.
 sys-a; a or an
 sys-can; can or cn 
 sys-what; what, whats, or what is 
Nature
 sys-catbreeds; Breeds of Cats, e.g. Persian, Siamese.
 sys-fishspecies; Breeds of Fish, e.g. Herring, Salmon, Angel Fish.
 sys-horsebreeds; Breeds of Horse, e.g. Lipizzan, Italian Heavy Draft.
 sys-clouds; Types of Clouds, e.g. Altocumulus, Cirrus, Arcus.
 sys-dogbreeds; Breeds of Dog, e.g. German Shepherd, Collie.
 sys-flowersandplants; Flowers and Plants, e.g. Lily, Geranium, Iris.
 sys-animals; Animals, e.g. Monkey, Bear, Lion, Dog.
Technology & Science
 sys-programminglanguages; Popular Programming Languages, e.g. Javascript, Perl, PHP.
 sys-geologicperiods; Periods in Geology, e.g. Ice age, Jurassic, Permian.
 sys-chemicalelements; Periodic Elements, e.g. Carbon, Mercury, Fluorine.
 sys-engineeringmaterials; Materials used in Engineering and Construction, e.g. Concrete, Steel, Marble.
Travel
 sys-automotivestyle; Styles of Car, e.g. Sedan, Limousine, Van.
 sys-transport; Types of transportation, e.g. Car, Bus, Aircraft.
 sys-airports; Main global airports, e.g. London Heathrow Airport, John F Kennedy International Airport. 
 sys-accommodation-types; Various types of accommodation, e.g. Hotel, Hostel, Motel.
 sys-passengerairlines; Larger passenger airlines, e.g. American Airlines, British Airways, Southwest Airlines.
 sys-vehicletypes; Various types of vehicles, e.g. Truck, Supercar, Electric Car.
 sys-typesofship; Types of Ships, e.g. Battleship, Frigate, Tugboat.
 sys-flight; Flight Numbers, e.g. BA1234, AA72, EZY635.
Food
 sys-nutrition; Nutrition related words, e.g. Calories, Fat, Fibre, Carbs.
 sys-cuisine; Types of Food, e.g. Chinese, Indian, Thai.
 sys-cheeses; Types of Cheese, e.g. Cheddar, Brie, Edam.
 sys-nutsandseeds; Nuts and seeds, e.g. Chestnut, Brazil Nut.
 sys-vegetables; Vegetables, e.g. Carrot, Pak Choi, Potato.
 sys-fishandmeat; Fish and meat, e.g. Lamb, Crab, Salmon.
 sys-fruit; Fruits, e.g. Apple, Banana, Pear.
 sys-herbsandspices; Herbs and Spices, e.g. Bay Leaf, Cinnamon, Chilli.
 sys-typesoftea; Types of Tea, e.g. Green, Early Grey, Mecha.
 sys-alcoholicspirits; Distilled Alcoholic Drinks , e.g. Vodka, Whisky, Tequila.
 sys-longdrinks; Longer alcoholic drinks, e.g. Wheat Beer, Cider, Lager.
Geography
 sys-capitals; Capital Cities, e.g. London, Paris.
 sys-countries; Countries, e.g. France, United States, Canada.
 sys-address; A lookup of an address or location, e.g. Times Square New York, 1600 Pennsylvania Avenue.
 sys-usstates; US States, e.g. Florida, California, Texas.
 sys-usstatecapitals; Capitals of US States, e.g. Denver, Austin, Boston.
 sys-uscities; US Cities, e.g. New York, San Fransisco, Texas.
 sys-zipcodesusa; US Zip Codes, e.g. 99501, 94203.
 sys-ukcities; Cities in the UK, e.g. London, Edinburgh, Bristol.
 sys-uktownsscotland; Towns in Scotland, e.g. Alloa, Falkirk, Bathgate.
 sys-uktownsengland; Towns in England, e.g. Ipswich, Milton Keynes.
 sys-uktownswales; Towns in Wales, e.g. Broughton, Caerwys.
 sys-uktownsireland; Towns in Northern Ireland, e.g. Bangor, Omagh.
 sys-ukcounties; Counties in the UK, e.g, West Lothian, Somerset.
Measurements
 sys-measure-distance; Ways to measure distances, e.g. Meters, Miles.
 sys-measure-volume; Ways to measure volume, e.g. Gallon, Pint, Bushel.
 sys-unitofmeasure; Units of measure, e.g. Metre, Foot, mm, Millimeter.
 sys-measure-time; Ways to measure time, e.g. Minute, Month, Second.
 sys-measure-data; Ways to measure data, e.g. Gigabyte, Qubit, Nibble.
 sys-measure-pressure; Ways to measure pressure, e.g. Atmosphere, Pascal, Bar.
 sys-measure-area; Ways to measure areas, e.g. Acre, Square Mile, Section.
 sys-measure-weight; Ways to measure weight, e.g. Carat, Kilogram, Tonne.
 sys-measure-temperature; Ways to measure temperature, e.g. Celsius, Kelvin, Fahrenheit.
 sys-measure-force; Ways to measure force, e.g. Dyne, Newton, Pound.
 sys-measure-energyunit; Ways to measure energy, e.g. Calorie, Joule, Kilojoule.
Fashion
 sys-fashionlabels; Labels in the Fashion Industry, e.g. Tom Ford, Vera Wang, Rolex.
 sys-fashiontextiles; Textiles used in Fashion, e.g. Velvet, Brocade, Mistral.
 sys-footweartypes; Types of footwear, e.g. Trainers, Sandals.
 sys-materialtypes; Types of materials, e.g. Cotton, Suede, Leather
 sys-clotheslength; Ways to identify length, e.g. Long, Short, Petite, Mid, Mini
 sys-shoeheelsize; Types of heel sizes, e.g. High Heel, Platform, Wedge
 sys-neckstyles;  Types of clothing neck styles, e.g. V Neck, Turtle Neck, Collar