Capabilities
Who can use this capability
The sheet Owner and Admins can create row-level reminders with any recipient.
Editors and Viewers can create row-level reminders for themselves. They cannot set them for other recipients.
Remind yourself about specific tasks
With row-level reminders, you can alert yourself or others about specific tasks in your sheet. For example, set a reminder for the estimated start date on a specific task to stay on track with your project.
Create row-level reminders
To create a row-level reminder:
Select the bell icon in the row action indicator column . If you have never set a reminder before, right-click the row number and select Set Reminder... from the context menu.

The New Reminder window appears.



Customize the reminder and select Save.
Any row with a reminder has the bell icon in the Row Action Indicators column
.
Modify your reminder to make it more dynamic
To make changes to existing reminders, select the bell icon for any row that already has a reminder. The Reminders window appears.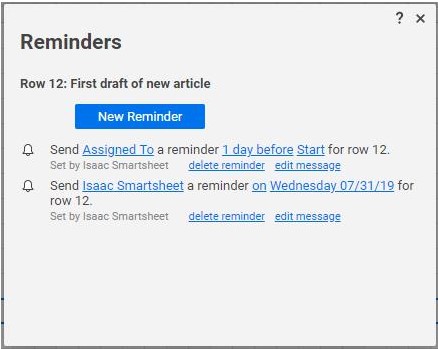 In the Reminders window, you have the ability to delete or edit reminders using the following fields:
Recipient: Select the contact or column name associated with the current recipient.

Timing: Send the reminder before, on, or after the specified date.

Date Trigger: Select the date button to change the specific date or date column that drives the reminder.

Custom Message: Select Edit message to create a custom message for the recipient of the reminder