Capabilities
Who can use this capability
Resourcing Administrators can create and manage budgets for an account.
Create and manage budgets
Resource Management helps you budget and track projects by time, fees, or expenses.
Time budgets
A time budget is the allocated labor for a project expressed in work hours or days. The hours worked by your team weigh against this budget.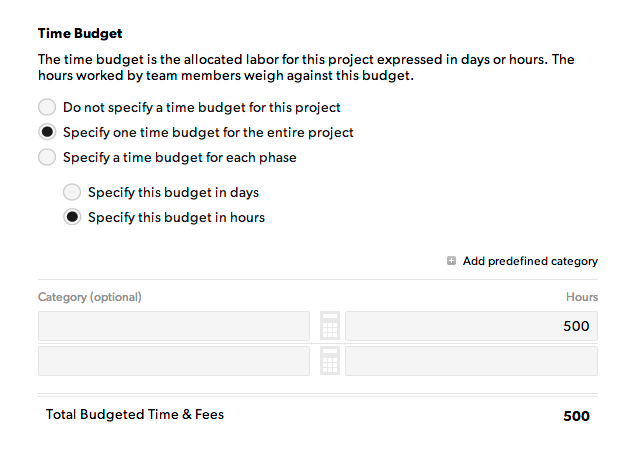 Fee budgets
Fee budget is the allocated labor for this project expressed in a fee amount. The hours worked by your team, mutiplied by their bill rates, weigh against the budget.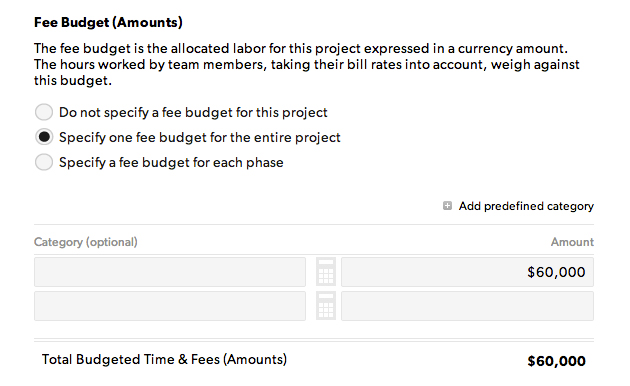 Expense budgets
Expenses are non-labor related project costs. Examples of expenses are costs incurred when hiring outside vendors, ordering prototypes or travel costs. Use Expense categories to estimate  costs at the beginning of the project and track incurred expenses for these categories. Expense categories might include travel, materials or consultants.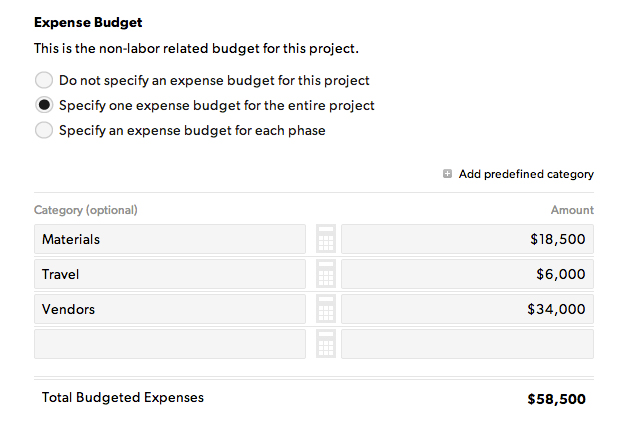 If project contractors or consultants bill your project a fixed fee for work performed, you may want to add that person as an expense rather than project labor. Estimate the fee and then enter the cost of the consultant when you receive the invoice.
Budgeting expenses by category
Use categories to estimate and track specific expenses. You can use predefined categories or create your own. 
When you add a predefined expense category to your budget you will see the suggested cost for that category, or you can use the calculator to set the cost for a category item.
For example, estimate travel expenses for a project using the expense tracking tool or budget the time you anticipate needing for marketing, billable tasks or meetings using the fee or time tracker.