The 10,000ft mobile website is a webpage optimized for phones. It allows people to track their time and set their status while on the go.
On a mobile phone, use the browser and navigate to https://app.10000ft.com.
Time Tracking
The time sheet will show the suggestions for "today." If you end up working exactly according to the suggestions you can simply tap on "confirm" at the bottom of the list.
Tapping on the hours for an entry will allow you to change these settings.
Time Entry Shortcuts
The short cut grid shows a series of single-tap time entries so you don't have to use the keyboard to enter your time. The column on the left shows all whole hours. The three other columns allow you to add fractions of an hour in addition to the whole hour. For example 2.5 hours.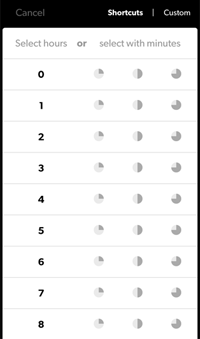 Custom Time Entries
When the entry you want to make is not in the short cut list, you can tap on "custom" and enter the exact number of hours and minutes there.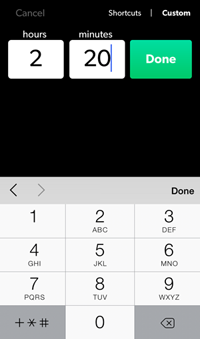 Non-Itemized Time Tracking
When you are just tracking "hours & minutes" for each project, the flow for entering time is as follows:
Tap on "report time for something else"

Select Project and/or Phase

Enter time via the shortcut grid
In this mode, deleting an entry is simply setting it back to 0 hours.
Itemized Time Tracking
If your organization is setup with itemized time tracking, you can simply select the "category" and "notes" as part of the flow of entering time:
Tap on "Report time for something else"

Select Project and/or Phase

Select time entry Category

Enter time via the shortcut grid

Optionally enter notes. You can tap "done" if you don't enter notes at this time
If the project is already in the list, you can also quickly add a new itemized entry by tapping on the project name. This will immediately launch into step 3 above.
Editing an Existing Entry
Tap on the left side of an time entry to change the category/notes or to delete the entry.
Entering Time for Other Days
Scroll the list of vertical dates in order to enter time for other days.
Setting Status
You can change the status, such as "working from home" or what project you are currently working on, in the top section of the app. Optionally you can write a note. A change in status will be shown on the Organization Page within 10,000ft.