Capabilities
Who can use this capability
You must be a licensed Smartsheet user with Owner, Admin, or Editor-level permission on the sheet to create workflows. Users with Editor-level permissions can only create, edit, or delete alerts or reminders with themselves as the recipient.
Only a System Admin can control account-level automations. Learn about workflow permissions.
Create a time-based automated workflow
Create an automated workflow to trigger actions on a specific date that you can set manually or link from date column in your sheet.
In the trigger block of an automated workflow, you can trigger actions before, after, or on a specific date by specifying a date field.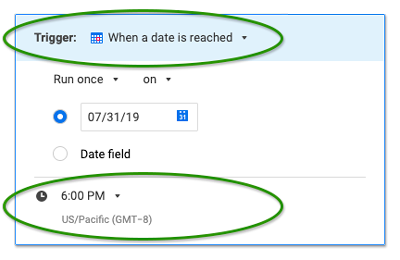 Keep the following tips in mind when creating a time-based workflow:
When you manually select a date, the workflow triggers all the rows that meet the conditions you set at the same time. For example, you can use an alert to remind you to take action on all rows that do not have an Assignee by a specific date.
When you select a date field for the workflow, the sheet will check daily for rows to include. If no rows satisfy the workflow's conditions, there is no trigger.
You cannot include rows that do not have a date.
You can also refine the hour of the day for your workflow to run.
The trigger's time zone is always the same as the sheet Owner's time zone.
Automation does not send messages when the sheet is empty.