Act on Alerts and Requests in Workplace Chat
Send notifications and requests from Smartsheet and respond in real-time from Workplace Chat by Facebook. For example, you can take action on a Smartsheet approval request while chatting with a colleague in Workplace Chat about the request—all without having to leave the Workplace Chat application.
Before You Begin
Be a Recipient in an Automated Workflow
Before you can receive alerts and requests in Workplace Chat, you'll need to be a recipient on an automated workflow on a sheet in Smartsheet. More information on how to create automated workflows can be found in Save Time and Work Faster With Automated Workflows.
Set Up the Integration
Your Workplace administrator must install this integration before you can receive Smartsheet alerts. To do this:
Sign in to Workplace with your admin credentials.
Click Admin Panel to the right of your profile icon.
Select Integrations on the left panel.
Locate Smartsheet in the Workplace app store and click the plus + icon > Install.
Once you see the success page, the integration has been successfully installed for your organization!
Everyone in your organization will be able to authorize their Workplace profiles to receive Smartsheet alerts by starting a conversation with Smartsheet in their chat windows. (Smartsheet will appear under bots when you search for it in Workplace Chat.)
Configure Your Workplace Account to Receive Notifications
After your Workplace admin has installed the integration with the steps above, you can locate Smartsheet as a bot in Workplace Chat by typing "Smartsheet" in the Search chats search bar.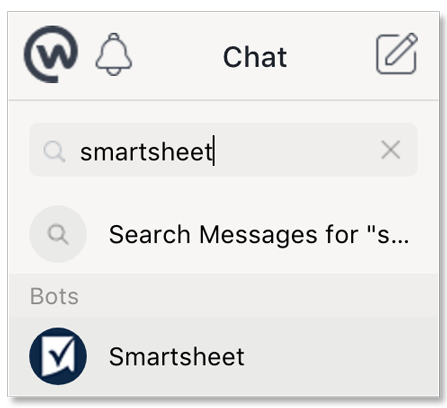 To set up your Workplace account to receive Smartsheet notifications:
Locate the Smartsheet bot, and select it to start a conversation.

TIP: You can locate Smartsheet bot by typing "Smartsheet" in the Search chats search bar.
 
In the Smartsheet chat window, click the Get Started button at the bottom of the page.
The Smartsheet bot will ask you for authorization. Click on the available options in the chat to allow or deny Smartsheet access to Workplace.
When prompted, sign in to your Smartsheet account and click Allow.

NOTE: If you're using the Workplace app for iOS and want to sign in to Smartsheet with Google through the Workplace app, you'll receive a 403 error. Please see the troubleshooting section below for more information.

Once you see the success page, you're set up to receive update requests, approval requests, notifications, and reminders from Smartsheet!
Note: Automation in Workplace Chat is part of your personal notification preferences, and there is not a Workplace Chat option within the workflow builder.
Test the Integration
If you'd like to test the integration and make sure that you're receiving automation from Smartsheet:
Navigate to Account > Personal Settings and select Notifications from the left panel
Under Messaging Apps, check the checkbox across from each type of notification you would like to receive in Workplace Chat
Send yourself an update request or create a reminder by following the steps in the Automate Processes End-to-End With Visual Workflows article
You should receive the automation in Workplace Chat shortly!
Unregister from Smartsheet Notifications
To unregister, click the menu icon in the chat composer and select Unregister Notifications.
You can register again to receive notifications at any time using the steps in the Configure section above.
Tips for Taking Advantage of Smartsheet in Workplace Chat
Here are ways that you can maximize the combination of work in Smartsheet and communication in Workplace Chat.
Execute on update requests and approval requests from Workplace Chat
You can approve budget requests or fill out and submit update requests directly from the Smartsheet chat window in Workplace Chat. Click Open Approval Form or Open Update Form to approve or deny an approval request or complete an update request directly from Workplace Chat.  
Learn more about creating Approval Requests and Update Requests in Smartsheet.
Set a Reminder to Take Action Later
You can have the integration send you another reminder so that you can review it at a later time. Click Remind me Later and then select a desired time.
Learn more about setting Reminders in Smartsheet.
Using Workplace mobile? Turn off Smartsheet mobile push notifications
If you're actively using the Workplace mobile app, as well as the Smartsheet mobile app, you'll receive the same notification from each application. Turn off Smartsheet push notifications so that you're only receiving one notification through Workplace. 
More information on disabling mobile push notifications is available in the Adjusting Personal Settings help article.
---
Troubleshoot Integration Issues
Workplace for iOS: 403 Error when attempting to sign in to Smartsheet after tapping the Google sign in option
To sign in without error using Google credentials after tapping Register Notifications or Authorize in Workplace for iOS: 
Tap the  icon (bottom corner) and select Open in Safari.

You'll be taken to a Smartsheet sign in page in the Safari mobile browser.
 
Tap the Google sign in button and go through the authentication process.
Otherwise, you might consider signing in using a different method. Some different sign in methods include (but aren't limited to):
Your Smartsheet email address and password (in the Workplace mobile app)
Workplace in your desktop browser
Workplace desktop application
Workplace for iOS: Not navigating to Smartsheet when tapping "View Notification"
To navigate to Smartsheet and view more details on your notifications:
Tap View Notification.

A Smartsheet sign in page will appear.
 
Tap the  icon (bottom corner) and select Open in Safari.

You'll be taken to a Smartsheet sign in page in the Safari mobile browser.
 
In Safari, tap Open at the top.
You'll be taken into the Smartsheet app for iOS to view the notification details.