Resource Management is about understanding who on your team is busy and who is available, and using that information to make decisions. With this information available real time in Smartsheet, you'll be able to make adjustments quickly to maximize resources and ensure project success.
Smartsheet Resource Management works by pulling allocation information from existing project sheets and compiling it to see who is allocated to what tasks, and for how long. The information is displayed in a simple dashboard across all projects.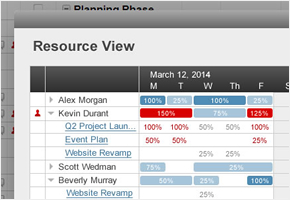 Here you'll find the basic steps you need to manage your team's time using resource management in Smartsheet:
---
Step 1: Set Up Users (System Admin)
Set Up Users as Resources
To manage users as resources, a System Admin must add them to your account.
TIP: Uncheck the Licensed User box when sending the invitation and resources won't count against your user limit.
Set Up Resource Viewers
To see how people are allocated across projects, you must be a designated Resource Viewer. Any System Admin can set this up via Account > User Management. (Note that you must be a licensed user to be a Resource Viewer.)
If you would like to view resources, but do not have access to the User Management screen, contact your Smartsheet System Admin.
 
For more information, see Managing Users in a Team, Business, or Enterprise Plan.
Step 2: Set Up Project Sheets
In order to track people in Resource Views, they must meet the following criteria:
They must be assigned to tasks via a Contact List column
They must be included in your account (See Step 1 above)

TIP: Any System Admin can verify who is included in your account by looking in Account > User Management.
Once you've completed Step 1, Resource Management is enabled for new project sheets you create. 
To turn on Resource Management in an existing project sheet:
Double-click the Assigned To column heading, and make sure it's a Contacts column type.
Assign users from your account to each task.
In Gantt view, click Edit Project Settings (the gear icon).
In the Project Settings form, under Dependencies, check Dependencies Enabled.
Click Resource Management, check the Resource Management Enabled checkbox, and confirm the Assigned Resource column and click OK.


A Resource Management icon will appear above your Gantt chart.
Step 3: Use Resource Views
Open project-specific or cross-project resource views for a visual overview of your resource allocation. People who are Resource Viewers can see resource views from the Home tab and from within project sheets.
See Resource Views from the Home tab
Click Resource Management Views > All Users.
Here's what you'll find and be able to do:
You'll see a red icon on over-allocated people, and red bars on over-allocated days.
Expand to see projects where each resource is assigned.
If you're not shared to a project, you'll see "Other" as the project name.
To resolve an allocation issue, click to open a project.
For a custom view of select people or projects, save a New View.
See Resource Views from a Project Sheet
A red icon alerts you to over-allocated people on tasks in the project. Hover on the icon to see the alert, then click the link to open the project Resource View inside your sheet.
In the project Resource View, you can expand the name of an over-allocated person to see project assignments and click into other projects to resolve issues.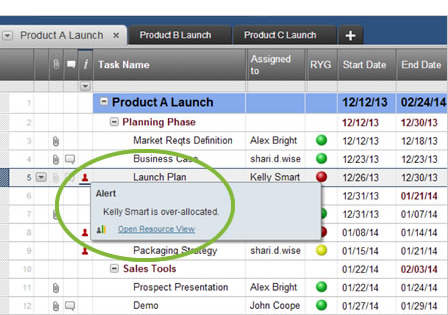 Step 4: Manage Allocations
Enable Resource Management on your sheets and optionally add a % Allocation column. (By default, all tasks are assigned at 100%.)
To split a resource allocation across two or more tasks:
Create a % Allocation column in your project.
Format the Column Properties to percent (%).
Click the Resource Management icon and set the Allocation % column to your Allocation column.
Change allocation for overlapping tasks: for example, change it to 50% for two concurrent tasks.